Margaret Wilson
Tuesday, December 12, 2017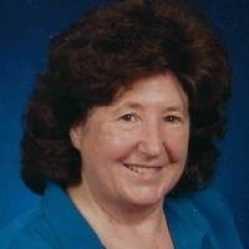 TRUMANN - Mrs. Margaret Russell Kelso Wilson of Trumann, 74, departed this life Thursday, December 7, 2017 at the family residence. She was born Wednesday, September 15, 1943 in Willis Township and lived most of her lifetime in Trumann. She was a retired note and bank teller from the Bank of Trumann. Margaret and her first husband Rev. Jimmy Kelso served as pastors in West Helena, Ark., for 2 years and then pastored the Trumann Revival Center twice where she was a member. She was preceded in death by her first husband, Rev. Jimmy Kelso; one daughter, Stephanie Kelso Burgess and her parents, G.T. and Maudine Clem Russell.
She is survived by her husband of 36 years, Bill Wilson of the home; one daughter, Lori and husband Michael Spray of Trumann; one grandson, Wesley Spray of Jonesboro; one granddaughter, Kayla and husband Jared Wolf of Lowell, Ark; one step-daughter, Kim Wilson of Jonesboro; two step-sons, Jeff Wilson of Trumann and Brian Wilson of Jonesboro; two brothers, Wayne Russell and Fred Russell both of Trumann; and two sisters, Virginia Hale and Phyllis Adams both of Trumann.
Funeral services were held Dec. 10th in the chapel of Thompson Funeral Home in Trumann with Rev. William Dub Holt and Rev. Frank Hardwick officiating. Burial followed in Jonesboro Memorial Park Cemetery in Jonesboro, Ark.
Pallbearers were Michael Adams, Jr., Chris Adams, Michael Kelso, Jeff Wilson, Wesley Spray, Jared Wolf and honorary pallbearer was Nathan Russell.
An online register book can be signed at www.thompsonfuneralhome.net.