C. P. Stafford
Tuesday, December 12, 2017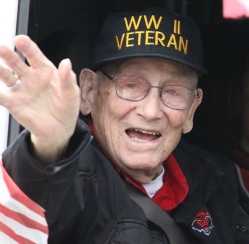 JONESBORO - C.P. Stafford, 95, of Jonesboro, passed away on Saturday, December 9, 2017, at the Phil and Flo Jones Hospice House. Born in Whitehall in Poinsett County, he was the son of Casper Powell Stafford and Martha Keywood. †C.P. lived 42 years in Marked Tree before moving to Jonesboro in 2000. He was the retired manager of Tyronza Lumber Company where he worked over 25 years and was a former member of the Tyronza Rotary Club where he was past president.
C.P. was a U.S. Navy veteran of World War II, deployed in 1942 and was honorably discharged as a Pharmacist Mate Second Class in 1945. He spent much of his Naval service working at the U.S. Naval Hospital in Pearl Harbor following the Japanese attack. C.P. was an honorary member of the Veterans of Foreign Wars. He was awarded an Honor Tour Trip to visit the war monuments in Washington DC, a trip he took with his daughter in October, 2013. Following his death Saturday, the Disabled American Veterans Chapter 26 presented a commemorative military statue to his son and daughter in his honor.
For many years C.P. was an active member of First United Methodist Church in Marked Tree where he and his wife served in many capacities. At the time of his death, C.P. was a member of First United Methodist Church in Jonesboro. From early childhood C.P. enjoyed hunting and fishing. He spent the years past being actively able to hunt and fish telling and retelling the old stories. But, his greatest joy was spending time with his family watching and supporting his children and grandchildren. During his childrenís school years, C.P. and Glada were active in groups supporting their children. Scouts, Band and Choir Parents to name a few. C.P. and Glada were named Band Parents of the Year.
C.P. was preceded in death by his wife of 68 years, Glada Bartholomew Stafford, in 2011. The two were married August 28, 1942 three months prior to C.P.ís Naval deployment. He was also preceded in death by eight siblings: brothers, Cecil Powell Stafford, Bernard Elwin Stafford, Maynard Earnest Stafford, Nolan Henry Stafford, Billie Orbrey Stafford and Sidney Stafford; and sisters, Lois Stafford Keith and Eleanor Stafford Bailey.
Survivors include his son and daughter-in-law: Trey and Jenna Stafford of Jonesboro; His daughter and son-in-law: Paula and Scott Johnson of Nashville, Tenn.; six grandchildren: Mitchell (Haley) Johnson of Nashville, Tenn., Rachel Johnson of Knoxville, Tenn., Ellie, Treyson, John David and Chaz Stafford, all of Jonesboro; and one great grandson, Isaac Johnson of Nashville.
Funeral services were held Dec. 11th in the sanctuary of First United Methodist Church of Jonesboro with Rev. John Miles of First United Methodist Church and Rev. Dale Blackwell of Victory General Baptist Church officiating. Burial with military honors followed in Harrisburg Memorial Park with Emerson Funeral Home of Jonesboro in charge of arrangements.
Pallbearers include: Mitchell Johnson, Treyson Stafford, John David Stafford, Chaz Stafford, Tommy Stafford, Todd Bartholomew, Mike Todd and Calvin Timbs.
For lasting memorials, the family asks that consideration be given to Make a Wish Foundation of the Mid-South, 1780 Moriah Woods Blvd Suite 10, Memphis, TN 38117; St. Bernards Seniors Services Meals Express, 700 East Washington, Jonesboro, AR 72401; First United Methodist Church, First Legacy Campaign, 801 S. Main, Jonesboro, AR 72401; First United Methodist Church, 304 Frisco Street, Marked Tree, AR 72365
Online registry at http://www.emersonfuneralhome.com./