Junior Wildcats tumble in semi-finals of Jennings tournament
Thursday, December 14, 2017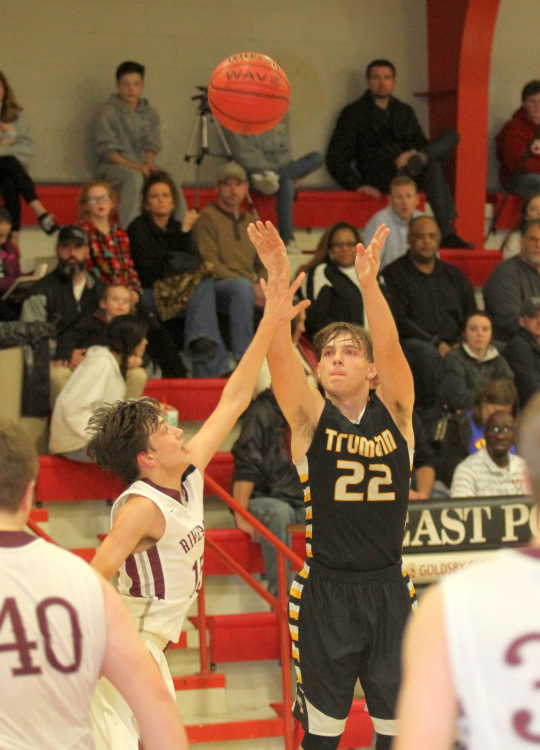 Trumann played Riverside close for the opening quarter as the Junior Rebels opened a double digit lead in the second quarter that the Junior Wildcats couldn't recover from as they fell 58-50 in the second junior high semi-final game of the Gerald Jennings junior high tournament last Thursday in Lepanto
Riverside scored off the break to open the game as Azani Smith hit one of two free throws for Trumann making it 2-1 early in the game. The Junior Rebels got an inside basket, Drew Osment drilled a three-pointer for the Junior Wildcats, Riverside it a jumper in the lane before Chris Webb scored off the fast break for Trumann to make the score 6-6 with 2:11 left. Riverside hit back to back jumpers around a basket in the paint from Jaquavious Love to make the score 10-9 Junior Rebels at the end of the first quarter.
Webb scored inside for Trumann to start the second quarter scoring making it 10-10 as Riverside canned a three-ball to make the score 13-10 Junior Rebels. Smith hit a baseline jumper and added a three-pointer for the Junior Wildcats give Trumann a 15-13 lead before Webb's jumper made the score 17-13 Trumann with 3:18 left. Riverside scored the next seven points to take a 20-17 lead as Trent Creekmore canned a three-pointer for the Junior Wildcats to tie the game at 20. The Junior Rebels ended the quarter on a 11-0 run to make the score 31-20 Riverside at the half.
Complete game article in December 14 PCDT on newsstands now!