Warriors squeak by Bay 56-54 in overtime
Thursday, December 14, 2017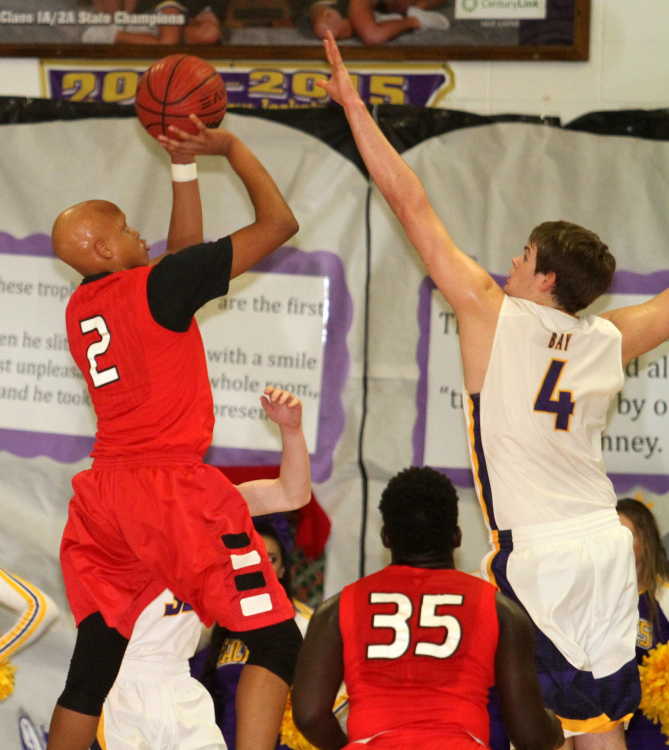 After swapping the lead at the end of the first three quarters and being tied at the end of regulation, EPC led at the end of overtime for a thrilling 56-54 win over the Yellowjackets this past Friday in Bay.
EPC scored the first eight points of the game at Dee Buchanan drilled a three-pointer to start things off, Jonathan Gilmore hit a jumper and Isaiah Taylor canned a three-pointer from the left corner to put the Warriors us 8-0. Dax Gibson scored inside for Bay's first points making it 8-2 only to see Travis Joplin hit a jumper and follow with one of two free throws for EPC to make the score 11-2 Warriors with 3:57 left. Aaron Jolly got a stick back basket for Bay, Joplin hit a jumper for the Warriors, Josh Willard canned a three-pointer for the Yellowjackets as Joplin hit another jumper for EPC to make it 15-7 Warriors. Gibson converted an old-school three-point play for Bay, Taylor hit one of two free throws for EPC before Gibson hit a jumper in the lane for the Yellowjackets to make it 16-12 Warriors at the end of one.
Gibson hit two free throws for Bay, Gilmore converted a conventional three-point play for EPC as Jolly drilled a three-ball for Bay before Tyler Hartgen hit a jumper for the Yellowjackets to tie the game at 19 with 4:42 left. Joplin netted a three-ball for the Warriors only to see Bay get an inside basket from Slade Grove, a jumper from Kyle McAdams and an inside and jumper from Gibson to give the Yellowjackets a 27-22 lead at the half.
Full game story in December 14 edition of the PCDT!