Lorene Sadler
Monday, December 18, 2017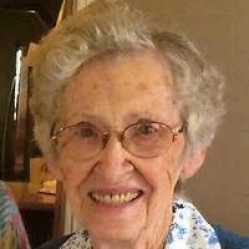 TRUMANN - Mrs. Lorene Bass Sadler of Trumann, 90, departed this life Tuesday, December 12, 2017 at Arlington Cove Nursing Center in Trumann. She was born Friday, April 22, 1927 in and was a lifetime resident of Trumann. She was a retired school teacher and was the last charter member of Maple Grove Baptist Church and a member of the Senior Adult Ladies Sunday School Class. She was preceded in death by husband, John F. Sadler; one great-granddaughter, Mollie Fears; and her parents, Roy Clayburn and Ora Mae Glass Bass.
She is survived by two daughters, Neva Henderson and husband Larry and Debbie Robinson and husband Bubby, both of Trumann; one son, Hayden Sadler and wife Lynda of Trumann; one sister, Ola Jane Miles of Horseshoe Lake, Ark.; one brother, Paul Bass of Long Beach, Cal.; six grandchildren, Aaron Sadler, Adam Sadler, Lisa Fears, Kelli Thompson, Hunter Robinson, and Holly Faulkenberry; and twelve great-grandchildren, Sam Fears, Gracie Fears, Abigail Fears, Olivia Fears, Cade Faulkenberry, Emma Sadler, Lane Sadler, Kayleigh Robinson, Zane Robinson, Carly Robinson, Slade Melton and Maddie Melton.
Funeral services were held Dec. 14th in the chapel of Thompson Funeral Home in Trumann, with Rev. Jim Duffel officiating. Burial followed in Jonesboro Memorial Park Cemetery.
Pallbearers were Hunter Robinson, Aaron Sadler, Adam Sadler, Jon Fears, Sam Fears, David Thompson, Blake Faulkenberry and Michael Everhart. Honorary pallbearers were the Senior Adult Ladies Sunday School Class.
Lasting memorials can be made to Maple Grove Baptist Church, 13509 Maple Grove Lane, Trumann AR 72472.
An online register book can be signed at www.thompsonfuneralhome.net.