Margaret Crews
Tuesday, December 19, 2017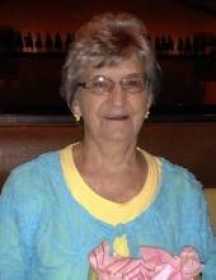 JONESBORO - Margaret Murline Crews, 80, passed away Thursday, December 7, 2017 at NEA Baptist Hospital.
She was born November 2, 1937 in Caraway to the late Willie and Mamie Eva Adams Olive. She was a devoted employee and retired from Walmart, where she was the department manager of the greeting cards area. She was a fan of Elvis, loved her red Cadillac and enjoyed cooking for her grandkids and family. She will be remembered as a devoted and loving wife, mother, grandmother, sister and friend who will be dearly missed. She added something magical to everything she did.
She was preceded in death by an infant daughter, Cindy Rena Crews; a brother, Billy Olive; two sisters, Eudean Latimer and Cathran Sutberry.
She is survived by her husband, Bennie Crews; a daughter, Susan Williams of Jonesboro; a son, Rick Toombs of Colorado Springs; a sister, Martha Brewer (Otis) of Caraway; a sister-in-law, Bettye Olive of Phoenix; seven grandchildren, Shelly Kirby, Ricky Toombs (Mary), Katie Boykin, Nicholas Toombs and Hannah Toombs all of Colorado Springs; Drew Kelso (Taylor) and Kara Kelso all of Jonesboro; six great-grandchildren, Bryson Kirby, McKayla Cicak, Alex Toombs, Landon Toombs, Hayden Toombs and Finn Boykin; many beloved nieces, nephews and other family and friends and her Walmart family.
A celebration of her life was held December 10 at Gregg-Langford Bookout Funeral Home Chapel in Jonesboro with Bill Maxwell officiating. Interment followed at Jonesboro Memorial Park Cemetery.
Honored to serve as pallbearers were Jimmy Welch, Donnie Taylor, Bob Walton, Doug Reams, Freddie Farmer and Doane Cowan and honorary pallbearers, John Tappan, Jerry Gossard, Brad Thompson, Dave Abts, Jimmy Stevens, Ronnie Massey, Doug Stanley and Andy Duffy.
Lasting memorials may be sent to American Cancer Society or Arkansas Home Hospice Providers, 3024 Redwolf Blvd Suite 8, Jonesboro, AR 72401.