Lady Hornets win NEA tourney opener
Thursday, December 21, 2017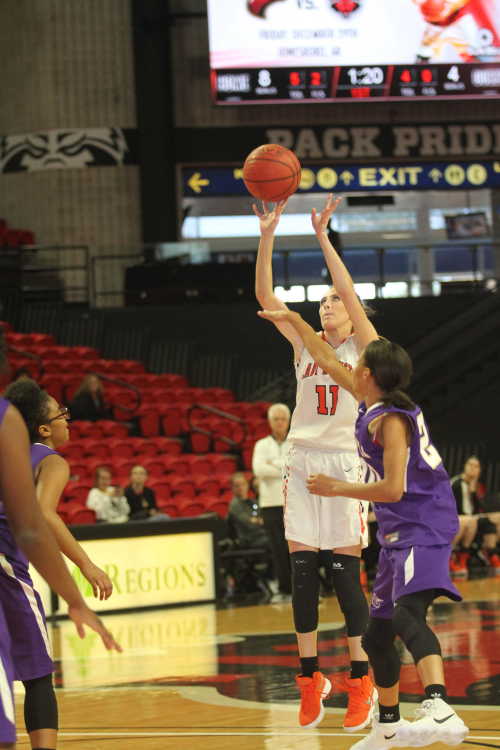 Harrisburg outscored Osceola 6-4 over the last three minutes to hang on for a 45-43 win over the Lady Seminoles in their opening round game of the NEA Invitational Tournament this past Monday in Jonesboro.
Abby Edwards scored the first points of the game for Harrisburg with a three-pointer as Osceola answered with a basket inside to make it 3-2 Lady Hornets. Cassie Armstrong drilled a three-pointer for Harrisburg before Vanessa Rivera scored inside for the Lady Hornets making the score 8-2 Harrisburg with 2:48 left. The Lady Seminoles scored inside only to see Edwards and Armstrong hit bak to back jumpers for the Lady Hornets to make it 12-4 Harrisburg after one quarter of play.
Osceola scored back to back baskets to open the second quarter making it 12-8 as Edwards hit a jumper in the lane for Harrisburg making it 14-8 Lady Hornets. Osceola hit a jumper, Armstrong got a steal and layup for the Lady Hornets as the Lady 'Noles scored inside to make it 16-12 Harrisburg with 3:41 left. Harrisburg scored the next seven points as Edwards and Destany Lovell scored back to back baskets before Ansley Wixson canned a three-pointer for the Lady Hornets to push their lead to 23-12. Osceola scored the last two baskets of the half to cut the lead to 23-16 at the intermission.
Full game story in the December 21 PCDT!