Warriors down Palestine-Wheatley in tournament opener
Thursday, December 21, 2017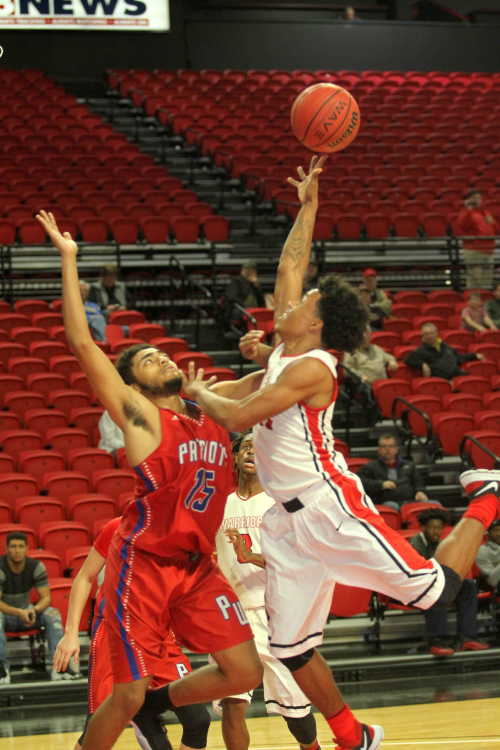 EPC used a big fourth quarter to turn a six point lead into a double digit win as they beat the Patriots 66-50 in opening round action of the NEA Invitational Tournament this past Monday.
The Warriors opened the game with a 10-2 run as TJ Bush hit two free throws and Travis Joplin put back an offensive rebound before Palestine-Wheatley scored inside to make it 4-2 EPC. Bush scored back to back baskets for the Warriors as the Patriots scored in the paint making the score 10-2 Warriors with 4:48 left. EPC scored the next eight points with Ty Garrett hitting one of two free throws, Joplin canning a three-pointer, Jonathan Gilmore making two free throws and Joplin scoring off the break to make it 18-4 Warriors. The Patriots scored a basket inside, Joplin hit a baseline jumper for EPC, the Patriots hit a jumper, Isaiah Taylor scored inside for the Warriors before Palestine-Wheatley converted an old-school three-point play to make it 22-11 EPC at the end of one.
The Patriots hit one of two free throws early in the second quarter only to see Bush and Ty Garrett get back to back scores for EPC to make it 26-12 Warriors. The Patriots drilled a three-pointer, Taylor hit a jumper in the lane for the Warriors, Palestine-Wheatley scored down low as Joplin hit a jumper for EPC to make the score 30-17 Warriors with 2:14 left. The Patriots got inside for a basket, Trey Howard had a stick back for EPC, Palestine-Wheatley scored back to back baskets before Gilmore hit two free throws for the Warriors with eight seconds left making the score 34-23 EPC at the half.
Complete game article in December 21 edition of the PCDT!