Lady Wildcats advance at NEA Invitational tourney
Thursday, December 21, 2017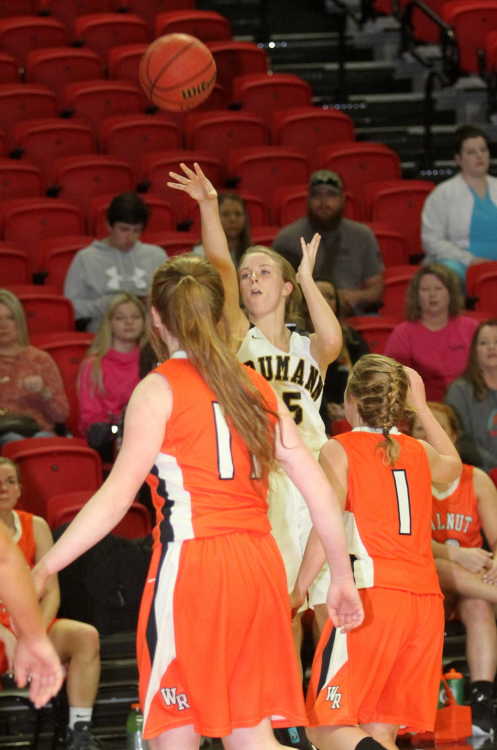 Trumann used a good second half to break open a close game at the half as they beat Walnut Ridge 53-41 in first round action tournament action this past Tuesday at First National Bank Arena in Jonesboro.
Tay Smith hit a three-pointer and Mycha Wilson had a steal and layup to give Trumann an early 5-0 lead as the Lady Bobcats got a stick back basket to make it 5-2. Olivia Greenwell drilled a three-pointer for the Lady Wildcats as Walnut Ridge scored the next five points to cut the lead to 8-7 with 2:47 left. Wilson got another steal and layup for Trumann as Greenwell netted another three-ball for the Lady Wildcats to make the score 13-7 Trumann. The Lady Bobcats hit a jumper and a three-pointer late in the quarter to make it 13-12 Lady Wildcats at the end of one.
Walnut Ridge scored inside to take a 14-13 lead before Daly Taylor hit one of two free throws for Trumann and Wilson hit a jumper in the lane for the Lady Wildcats to make it 16-14 Trumann with 6:14 left. Walnut Ridge scored inside to tie the game at 16 only to see Trumann get a three-pointer from Anna Waleszonia, a steal and layup form Smith and a three-ball from Smith to give the Lady Wildcats a 24-16 lead The Lady Bobcats cut the lead to 24-19 before Smith scored off the fast break for Trumann to make the score 26-19 Trumann. Walnut Ridge hit a jumper and then added one of two free throws to make the score 26-22 Lady Wildcats at the half.
Full game article in December 21 PCDT on newsstands now!