McMasters gives update on Lake Poinsett
Thursday, December 21, 2017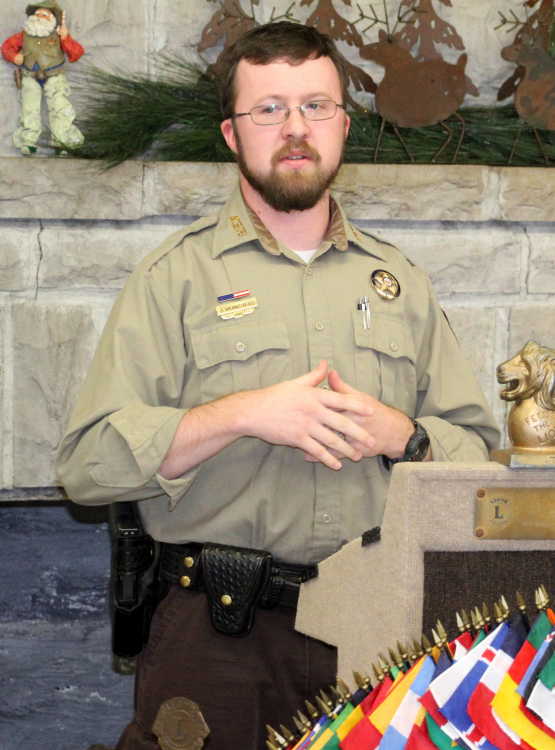 Josh McMasters, Assistant Superintendent and Park Ranger at Lake Poinsett State Park, spoke recently to the Trumann Lions Club about the progress on draining Lake Poinsett and some new things that will happen at the park.
McMasters told the group that in April they were advised that the lake would need to have some work done on it as any man-made lake will need work done periodically. The lake drain was started in July, and the lake was completely empty at the beginning of August. McMasters said the lake was made in 1964 or 1965 when Distress Creek was dammed up to make it.
"Our first job was to open the gates on the towers so the water would drain. The top gate was gone and had boards covering the opening so those were removed. When it was time to open the second gate, everything we tried to use to open the gate broke due to it be be rusted shut," McMasters said. "When the water got low enough, we sent someone down the inside to open the third gate that was 45 feet down. The person hit silt at the 26 foot mark but was able to get the lower gate open to finish the lake drain."
McMasters said the first thing that had to be done when the lake was empty was to check the levee to make sure it was structurally sound. McMasters said the levee was in good shape. The main jobs on the lake will be to replace the tower and the plumbing and to redo the shoreline around the lake. "The lake has 100 foot of leeway around the lake, and erosion has gone through the 100 feet and into some of the property line of residents around the lake. We hope to rebuild the shoreline and get the property of those residents back to them," McMasters said. McMasters also said that trees will cleared around the edge of the lake so bank fishing will be opened back up to the public.
If all goes as planned, McMasters said they hope to have all repairs done by 2020 and would like to see a natural fill of the lake that could take up to two years. The first year after it's filled, the lake will be stocked with bait fish, crawdads, minnows, and shad. Then the next year, the lake will be stocked with bass, bream, crappie, and catfish. "We think that the fishing will be good around the year 2024 or 2025," McMasters said.
McMasters told the group that since the activity at the park will be down for a while, the park is trying to get approved to build a new campground, possibly have a swim beach in the park, and also build a fishing pier on the point. "We hope to make these improvements while the work is being done on the lake and we have the free time to do so," McMasters said.