Mary Ann Ritter Arnold
Tuesday, December 26, 2017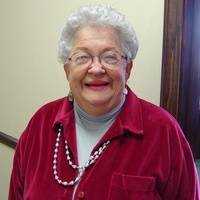 MARKED TREE - Mayor Mary Ann Ritter Arnold, 90, of Marked Tree passed from this life on Thursday, Dec. 21, 2017, at the Flo and Phil Jones Hospice House. She was born to the late Louis Vernon Ritter, Sr., and Margaret Elizabeth Hart Ritter in Memphis, Tenn., on April 25, 1927. Mary Ann graduated from Stephens College with an AA in 1945 and from the University of Missouri with a BA in Home Economics and Fashion Design in 1948. She married Sidney William Arnold in 1948.
Mary Ann and Sidney moved back to Marked Tree in 1975, and she became president of E. Ritter & Co., retiring in 1992. She served as president of the Arkansas Telephone Association and later as president of the Arkansas Agricultural Council. Longtime member of the Marked Tree Rotary Club, Mary Ann served a term as president. She was a Justice of the Peace and served on the Poinsett County Quorum Court for 22 years. She also served on the St. Francis Levee Board. An organization which Mary Ann particularly enjoyed was the Crowley's Ridge Girl Scout Council. Hard work and dedication to her community, county, and state provided many long-lasting and dear friendships.
In September 2013, Mary Ann was elected mayor of Marked Tree to fill the remaining term of Wayne Nichols, becoming the first woman mayor of Marked Tree. She was re-elected to the mayor's office in November 2014. Mary Ann was inducted into the Arkansas Agriculture Hall of Fame in 1998 and was an inaugural inductee into the Arkansas Women's Hall of Fame in 2015.
Marked Tree was very near and dear to Mary Ann's heart. Her family has been a part of Marked Tree from its inception, and whenever Mary Ann would speak of Marked Tree she would say, "I just love this little ol' town!"
In addition to her parents, Mary Ann is preceded in death by her husband, Dr. Sidney Arnold; and her brother, Louis Vernon Ritter, Jr.
Mary Ann is survived by her daughter, Melissa Wrenn and her husband, Dr. Keith Wrenn of Nashville, Tenn.; sons, Ernest Ritter Arnold and his wife, Cary Rebecca Forbes of Marked Tree and Paul Sizemore Arnold of Nashville, Tenn.; grandchildren, Dr. Amy Wrenn and her husband, Dr. Sathya Chinnadurai, Dr. Jesse Wrenn and his wife, Audrey, Henry Wrenn, Joseph Wrenn, Ann Marie Arnold, James Sidney Arnold, and Lara Hart Arnold; and great-grandchildren, Helena Chinnadurai, Rosalind Chinnadurai, and William Wrenn.
The family wishes to express heartfelt thanks to Dr. Stephen Woodruff, Dr. Michael Isaacson, and the staff of the Flo and Phil Jones Hospice House.
A visitation will be held from 5-7 p.m. on Thursday, Dec. 28 at the First United Methodist Church of Marked Tree.
A memorial service will be held at 1 p.m. on Friday, Dec. 29, at the First United Methodist Church with Rev. Danny Partlow, Rev. Ron Williams, Brother Dale Noe, and Pastor Willie Brown officiating.
For lasting memorials, please consider Arkansas Children's Foundation, 1 Children's Way, Slot 661, Little Rock, Arkansas 72202; First United Methodist Church of Marked Tree, 304 Frisco Street, Marked Tree, Arkansas 72365; or Trumann Animal Clinic, Helping PAWS Fund, 1121 Hwy 69W, Trumann, Arkansas 72472. To sign the online guestbook, please visit www.emersonfuneralhome.com.