EPC advances to title game at NEA Invitational
Thursday, December 28, 2017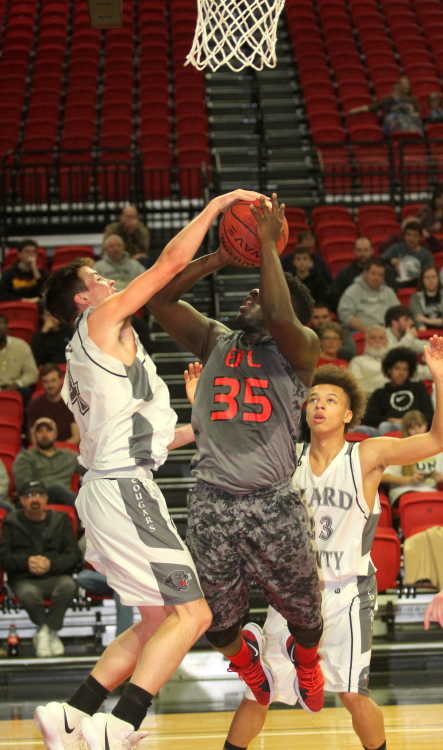 EPC hit enough free throws down the stretch to secure a 71-62 win over Izard County Consolidated (ICC) to reach the finals of the Division I bracket this past Monday in Jonesboro.
ICC scored the first points of the night with a basket inside as Dee Buchanan hit a three-pointer for EPC to make it 3-2 Warriors. The Cougars hit a jumper before the Warriors got a three-ball from Jonathan Gilmore, a jumper from Buchanan, one of two free throws from Travis Joplin, a three-ball from Buchanan and a trey from Isaiah Taylor to make it 15-4 EPC with 2:22 left. ICC hit a pair of jumpers around a Joplin jumper to make the score 17-8 Warriors at the end of one.
The Cougars had a tip in basket early in the second quarter making it 17-10 only to see EPC get another three-ball from Taylor, a fast break layup from Joplin and a baseline jumper from Buchanan to push the Warriors' lead to 24-10. ICC hit two free throws, Gilmore hit two free throws for EPC, the Cougars scored from the paint as Buchanan hit a running jumper to make it 28-14 Warriors with 4:36 left. ICC hit three of four free throws on back to back trips to line before Joplin hit two free throws for EPC to make it 30-17 Warriors. ICC got a stick back basket, Ty Garrett hit one of to free throws for the Warriors, the Cougars hit two free throws as TJ Bush hit one of two free throws for EPC to make it 32-21 Warriors. ICC got another stick back and two free throws before Joplin's jumper for the Warriors with six seconds left made it 34-25 EPC at the half.