Mayor Arnold passes away
Thursday, December 28, 2017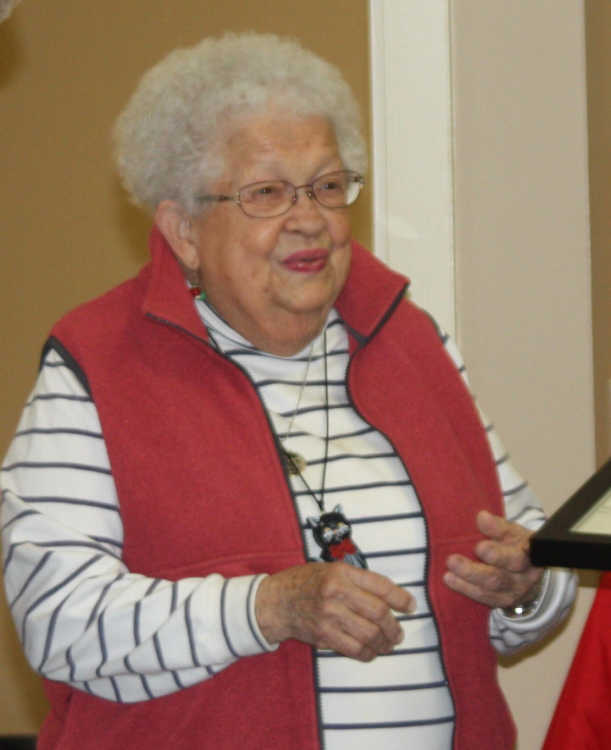 Marked Tree Mayor Mary Ann Arnold passed away at the age of 90 on Thursday, Dec. 21. Mayor Arnold had been in hospice for about a week and had appointed Alderman Steve Craig to serve as mayor pro tempore earlier in the month, though she had still been in contact with department heads by phone and did her best to work for the city till the end.
A post on the city's facebook page announced her death and praised her generosity. "This afternoon our town lost a great lady. A woman that loved Marked Tree with all of her heart. A lady who gave generously to every cause without any expectations. We are very blessed to have called her 'Our Mayor.' She worked up until the very last and always had our city on her mind. A sad day but this town is very blessed to have had her as our Mayor and friend. We will miss you Mayor!"
Born on April 25, 1927, Arnold graduated from Stephens College with an AA in 1945 and from the University of Missouri with a BA in Home Economics in 1948. That same year, she married Sidney W. Arnold, who graduated from the University of Arkansas Medical School in 1956. The Arnolds raised three children--Melissa, Ritter, and Paul--and moved back to Marked Tree in 1975.
E. Ritter and Company was founded by her great-grandfather, Ernest Ritter, in 1886, and has always been run by a family member. Her cousin, Louis Newsom, had run the company from 1971 until his death in 1976. When Newsom died, Arnold convinced the board of directors she was capable of running the company, despite only having worked there for a three-month stint as a telephone operator. Arnold believed that running a business and running a family shared the same goals, and after some scepticism she proved herself capable of running and growing the company.
In the 16 years she was president of E. Ritter and Company, from 1976 to 1992, Arnold increased the company's assets and doubled profits. She spearheaded getting the company into rice production and convinced the board to build a rice dryer and a 500,000 bushel elevator to store the grain. Arnold was also involved with and held leadership roles in numerous commodity committees and councils at local, state, and national levels.
Philanthropic efforts were always a priority for Arnold. Among her many endeavors, she spearheaded efforts to revitalize downtown Marked Tree with the rehabilitation of Elm Street and Frisco Street. She once said cleaning up Marked Tree was one of her first goals when she started at E. Ritter and Company, and that passion continued into her time as mayor. Arnold was also a strong supporter of the Marked Tree school system. She purchased the equipment for the elementary school computer lab and supported technology upgrades at the high school. She supported the Marked Tree Fire Department with contributions toward a new fire engine and the construction of a new fire station. And she worked to get a donated house rennovated to be the office for the Cooperative Extension Service at a time when the Extension Service was run out of the basement of the courthouse.
Arnold later got involved in politics. She served on the Quorum Court for 22 years, finishing her final term in 2010. In 2013, she was elected Mayor of Marked Tree to fill the remaining year of Wayne Nichols' term after he passed away, and she was reelected in 2014. In 2015, she had the honor of being inducted into the first ever Arkansas Women's Hall of Fame.
Just a few of the organizations Arnold has been involved with included the Agriculture Council of Arkansas, National Cotton Council, Cotton Board, U.S. Rice Council, Arkansas Telephone Association, U.S. Telephone Association, Crittenden Hospital Board, Farm Services Agency Committee, Arkansas Children's Hospital Foundation, ASU Museum Advisory Committee, ASU Business School Advisory Committee, ASU Foundation, Arkansas State Chamber of Commerce, Marked Tree Rotary Club, and the Marked Tree Chamber of Commerce.
During an interview two years ago, when she was announced as an inductee to the Arkansas Women's Hall of Fame, Arnold spoke about her interest in helping her community, saying, "I never do it for anything other than to improve the living quality of the citizens of Marked Tree." Arnold was humble about her many accomplishments and always more interested in talking about what she was going to do next. She will certainly be missed.