Local pantries give out food for holiday
Thursday, December 28, 2017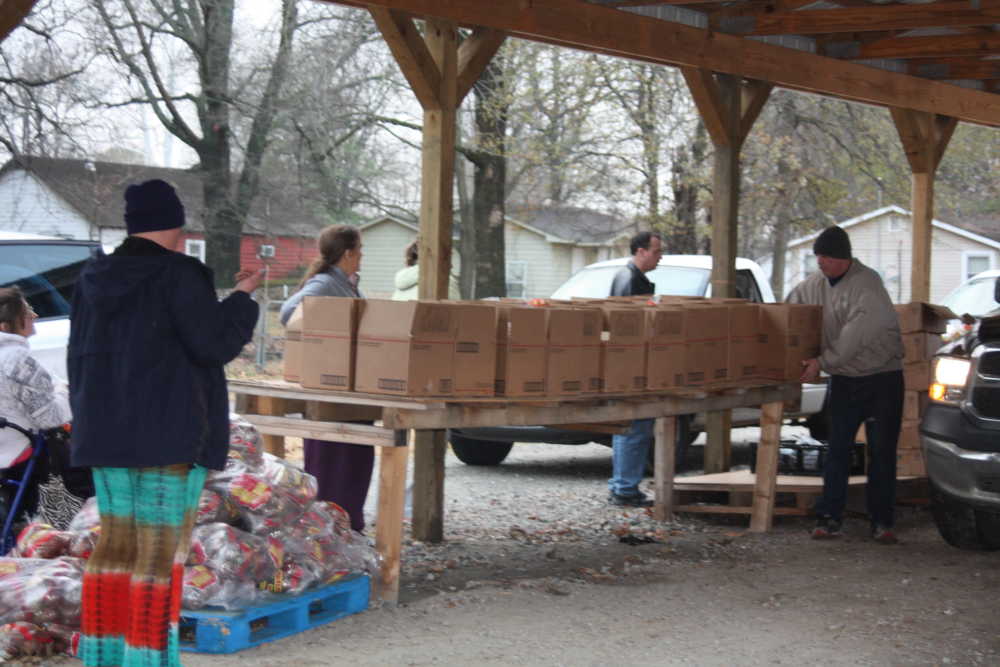 Last week, Stepping Stone Sanctuary in Trumann and Three Rivers Food Pantry in Marked Tree had their big Christmas giveouts to the help families over the holiday.
Stepping Stone Sanctuary gave out 5,300 pounds of food in 16 minutes last Wednesday at their Trumann location. Jeff Weaver, director of Stepping Stone Sanctuary, said the food was donated from several places, including Walmart, Country Mart, and the Northeast Arkansas Food Bank. Frozen turkeys were donated by Aldi.
"This is going to be one of our bigger giveouts of the year," Weaver said just before it got underway. "Our hope is to provide enough to those in need for a good Christmas dinner."
At Stepping Stone's satellite location in Lepanto, they gave out 4,000 pounds of food.
In Marked Tree, Three Rivers Food Pantry Director Connie Huff said people were already lined up at 8:30 a.m. Thursday morning in anticipation of the pantry opening at 10 a.m.
For Thanksgiving, Three Rivers Food Pantry had been able to put out food for 176 families. For their Christmas giveout, they topped that by serving 203 families. The pantry made a big thank you poster for their biggest donor, and several of the families served signed to poster to show their thanks. Huff also said Senator Dave Wallace showed up to help out and that the pantry loaded his truck with some items to help other pantries that are in need.
Volunteer Pat Steele spoke about support from volunteers and the community. "We have so many good volunteers. Without them, we couldn't do this," Steele said. "We have a really good community that supports us."
Three Rivers Food Pantry reopens Jan. 4. They will begin re-registering all clients and will be signing up new families as well.