Wanda Martin
Wednesday, January 3, 2018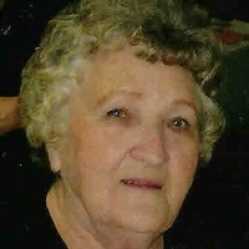 BAY - Mrs. Wanda Lee "WeeWee" Martin, 91, departed this life on Friday, December 22, 2017 at St. Bernards Medical Center in Jonesboro, Ark. She was born Thursday, February 25, 1926 in Ravenden Springs, Ark., and had live most of her lifetime in Bay, Ark. She was a housewife and a member of Bay Church of Christ. She was preceded in death by her husband, Earnest Ray "Hambone" Martin; one son, Michael Martin; two sisters, five brothers and her parents, E. B. and Johnnie Rickman Cochran.
She is survived by three sons, Edward Martin and wife Paula and Dennis Martin and wife Vicki both of Bay and Kenny Martin and wife Clarissa of Jonesboro; two sisters, Lovis "Teet" Fults of Bay and Lois "Honey" Adams of Trumann; four grandchildren, five great-grandchildren and three great-great-grandchildren.
Funeral services were held Dec. 27 in the chapel of Thompson Funeral Home in Trumann with Ted Knight officiating and assisted by Jack Knight. Burial followed in Oaklawn Cemetery in Jonesboro.
Family and friends will service as pallbearers.
An online register book can be signed at www.thompsonfuneralhome.net