Marked Tree downs EPC in NEA championship game
Thursday, January 4, 2018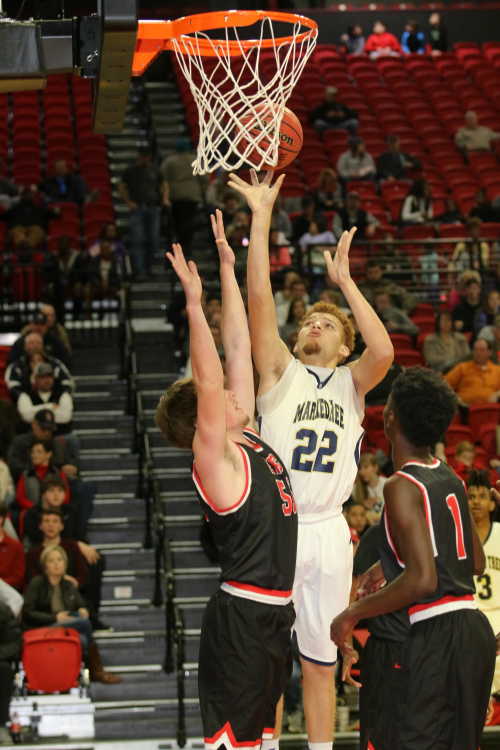 They say it's hard to beat a team three times in the same season. Marked Tree (12-0), who has beaten EPC (10-5) twice this season, used a big second half to make sure that statement didn't come true as they beat the Warriors 64-35 last Wednesday at First National Bank Arena in Jonesboro. The title was the fourth in school history for Marked Tree.
EPC jumped out to a 6-0 lead as TJ Bush hit a jumper in the lane, Dee Buchanan scored inside and Bush hit a runner in the lane before Marked Tree reeled off the next 13 points. The Indians got a basket inside from Markel Perry, a fast break layup and three-pointer from Trayvius Brown and another basket from Perry to make it 9-6 with 3:18 left. Paul Coleman scored a basket in the paint and Perry scored inside for the Indians to make it 13-6 Marked Tree at the end of one.
Trayvius Brown hit two free throws for Marked Tree, Jonathan Gilmore hit one of two free throws for EPC, Perry scored inside for the Indians as Travis Joplin canned a three-pointer for the Warriors to make the score 17-10 Marked Tree with two and half minutes gone in the second quarter. Perry hit a baseline jumper for the Indians before EPC got a three-pointer from Isaiah Taylor, a stick back basket from Joplin and a jumper in the lane from Gilmore to make it 20-17 Marked Tree with 1:51 left. The Indians scored the last seven points of the quarter as Colby Malone hit one of two free throws and added a basket inside, Perry got a steal and layup as Malone hit two free throws to give Marked Tree a 26-17 lead at the half.
Complete game story in January 4 PCDT!