Landon Stotts
Monday, January 8, 2018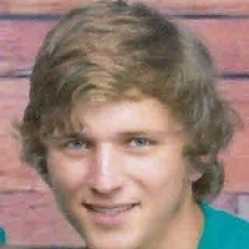 TRUMANN - Mr. Landon Heath Stotts, 24, departed this life on Saturday, December 30, 2017 at the family residence in Trumann. He was born in Jonesboro and lived his lifetime in Trumann. He was a farmer and a member of Corners Chapel Baptist Church in Payneway. He was preceded in death by his great-grandparents, J.W. and Clara Heathcock, Walter and Maggie Heath, J.O. Murray Sr., and O.H. Stotts; grandmother, Elizabeth Murray; one aunt, Jessica Murray; and step-dad, Nick Busch.
He is survived by his father, Rodney (Angie) Stotts of Trumann; his mother, Amanda Murray Busch of Harrisburg; two brothers, Murray Stotts and Jaron Jones both of Trumann; one sister, Kandace (Kevin) Smallman of Lake City; grandparents, Jimmy and Mickey Stotts of Trumann, Jesse (Carolyn) Murray Jr. of Harrisburg, and L.C. "Button" (Peggy) McHalffey of Trumann; great-grandparents, Jim and Ethel Thomas of Harrisburg; two uncles, Jimmy (Janna) Stotts and Mike (Angie) Gibson both of Trumann; two aunts, Katrina Hall of Jonesboro and Jodie Heron of Manila; best friend, J. T. (Taylor) McAuliffe and little Jay of Trumann; special friends, Ayden Vick and Gavin Vick; and several aunts, uncles, nieces, nephews and cousins.
Funeral services were held Jan. 5 in the chapel of Thompson Funeral Home with Rev. Kenny McMahan, Rev. Larry Loggins and Rev. Glen Hurst officiating. Burial followed in Jonesboro Memorial Park Cemetery in Jonesboro, Ark.
Pallbearers were Jason Vick, Jaron Jones, Shawn Haynes, Bubba Blackwood, Hunter Moye, Leroy May, and J.T. McAuliffe. Honorary pallbearers were the Trumann Football Team of 2010, Coach Greg White, Garrett Haag, Connor Haag, Lynn Richie, Mike Hobbs, Ronnie Haynes, Robert Stotts, Corey Leuallan, Nick Hall, Chris Hall and Hunter Traynom.
An online register can be signed at www.thompsonfuneralhome.net.