Hornets fall to Rivercrest in tourney quarter-finals
Thursday, January 11, 2018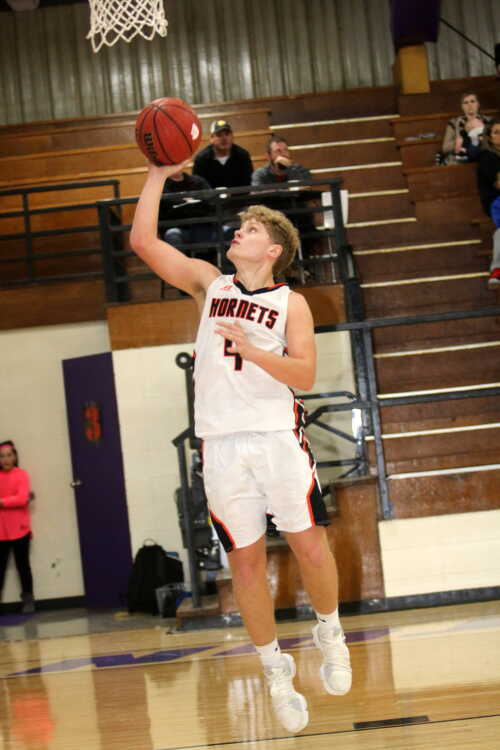 Harrisburg cut a 15 point halftime deficit to five points after three quarters of play but couldn't get the stops they needed in the fourth quarter as Rivercrest downed the Hornets 70-55 in quarter-finals action last Thursday at the Kell Classic is Swifton.
The Hornets jumped out to a 5-0 lead as Gavin Casebier scored inside and Zach Biggers canned a three-pointer before Rivercrest scored the next eight points to go up 8-5. Casebier hit two free throws for Harrisburg as the Colts scored inside and hit two free throws to make it 12-7 Rivercrest with 3:32 left. Casebier scored inside for Harrisburg, Rivercrest hit a jumper in the lane as Casebier hit one of three free throws with no time left after being fouled shooting a three-pointer at the buzzer to make the score 14-9 Colts.
Weston Stanford scored off the fast break to make it 14-12 Colts early in the second quarter before Rivercrest got a three-ball and coast to coast layup making it 19-12 Rivercrest. Stanford hit one of two free throws for the Hornets, the Colts scored back to back baskets as Walker Brown scored inside for Harrisburg making it 23-15 Rivercrest with 3:12 left. The Colts went on 9-2 run to make it 32-17 as Casebier hit a jumper in the lane for Harrisburg's points. Mathis scored inside for the Hornets, the Colts hit a jumper in the lane, Mathis hit two free throws for Harrisburg as Rivercrest's jumper made it 35-21 Colts at the half.
Pick up a copy of the January 11 PCDT for complete game story!