PCDT Sports 2017: A look back
Thursday, January 11, 2018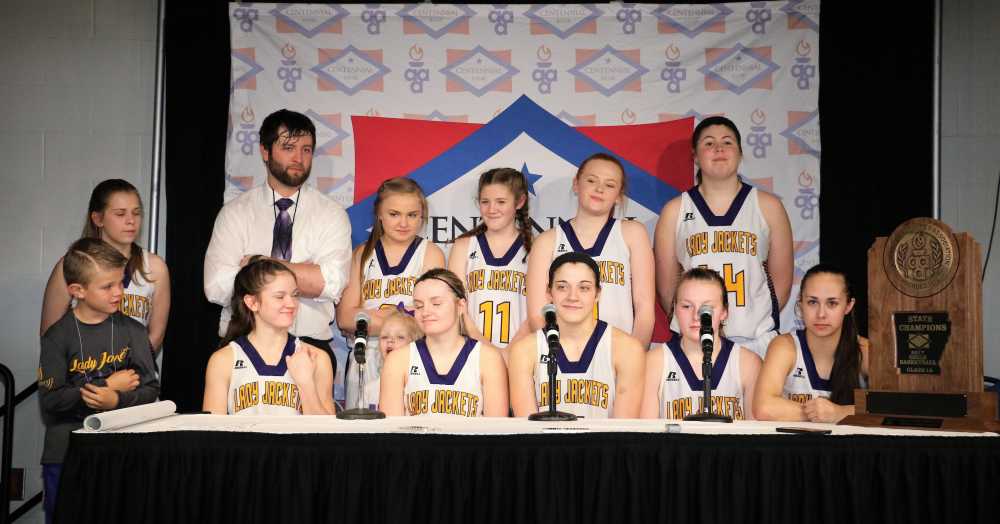 We take a look back at some of the highlights that made 2017 a memorable year for Poinsett County sports.
January saw a new year start with the Bay Lady Yellowjackets winning the Liberty Invitational in Missouri for the second year in a row. Will White's over the shoulder layout catch from a Garrett Wood's pass garnered Yarnell's Sweetest Play of the Year as the school received a $1,000 check from Yarnell's. February saw area players sign letters of intent to continue their sports careers in college. Nick Andrews of Marked Tree signed to play football at Harding University, Nolan Smith and Taylor Layne of Bay decided to play four more years of baseball together as they signed with Williams Baptist College as Keely Curtis of Harrisburg signed to play with the Arkansas State Lady Red Wolves softball club. Basketball district tournaments closed out February as the Marked Tree Junior Lady Indians finished as runner-ups in the 1A/2A-10 blended conference, Marked Tree beat EPC 77-66 for the 2A-2 district title, Bay downed RCS 72-50 for the 1A-3 East district title with the Lady Yellowjackets winning the 1A-3 East girls' district title.
March saw both Bay teams make the 1A state basketball tournament as Trumann made the 4A state tournament along with EPC and Marked Tree making the 2A state tournament. The Lady Yellowjackets won the school's first ever state title in basketball beating Wonderview 40-35 ad Whitlee Layne won MVP honors for Bay. Marked Tree fell 81-62 to Earle in the 2A state title game. As softball has started for some teams, the EPC Lady Warriors won the White Division of the Lady Bearcat Blast held at Southside Softball Complex in Jonesboro. Seven players were selected all-state in basketball this past season. They include Taylor Layne and Dustin Utley of Bay, Markel Perry of Marked Tree, Xzavier Reed and J'Sebian Brown of EPC along with Mallory Hartley and Whitlee Layne of Bay. Sarah Tacker and Jaleigha Garrett of EPC signed to continue their softball careers at Crowley's Ridge College. Trumann' fishing team, in its fist year, saw Cade Gartman and Taylor Morgan quality for the National High School Fishing Tournament be held on Pickwick Lake in Alabama. April saw baseball and softball in full swing and also saw Chanc Gray of EPC sign to play baseball for Williams Baptist College after high school.
May brought on district and regional baseball and softball tournaments with Bay winning district and finishing as runner-ups at regionals. The Lady Hornets of Harrisburg won the 4A-3 district tournament in Cave City. The Lady Yellowjackets were district runner-ups in softball as the EPC Lady Warriors took the runner-up trophy at the 2A North Region softball tournament. Kayla Moore of Harrisburg signed to cheer for the University of the Ozarks. Trumann's Cade Gartman took first place in the state weight lifting meet with a bench press of 315 pounds a power clean of 285 pounds. The Wildcats finished in second place as a team. June saw 11 players in the area tabbed for all-state in softball and baseball. In softball, Keely Curtis of Harrisburg, Harley Daniels of Marked Tree, Jehlian Wright of Harrisburg, Meagan Allen of EPC, Mallory Hartley of Bay and Daly Taylor and Hannah Craig of Trumann were picked. In baseball, Taylor Layne, Nolan Smith, Zach Biggers and Chanc Gray were all selected all-state. The Delta 7CP team comprised of players from Poinsett County finished at state runner-ups in baseball.
In July, the Trumann High School Fishing Team finished in 10th place out of 332 boats to make it to the World High School fishing tournament where they placed 28th. Kody Redman of Trumann won first place in her age group of the Putt, Drive and Chip competition in Little Rock. Madison Wiggins of EPC was selected to play for the USA High School softball team who will travel to the Dominican Republic to play. Marked Tree's Carly Hicks, Lillian Criswell, Brooke Deckleman and Cameron Willoughby were named All-American cheerleaders at their camp in Hot Springs. August saw the schools gearing up for football and volleyball seasons as the start of school was drawing near.
September saw those Friday Night Lights come to life as Trumann, EPC, Harrisburg and Marked Tree all open the high school seasons with wins. The Junior Wildcats opened with a win as the Junior Warriors lost their opener. Marked Tree and Harrisburg fell victims to heavy rains and flooding that rained their game out and was not made up. October saw Bay take third place in the boys' Class 1A state golf tournament as the Lady Hornets punched their ticket to the state 4A volleyball tournament. The Nemesis 7CP took another state runner-up finish and finished at the number one team in the nation in their age group. The EPC Junior Warriors downed Earle 62-44 to win the 2A-3 junior high conference title in football. Lepanto native and Charlotte Hornets rookie Malik Monk gifted the EPC basketball teams with new basketball shoes for the upcoming seasons.
November was state football playoff time as Trumann finished the regular season 9-1 before falling to Ashdown 28-7 in the opening round of the 4A state tournament. EPC beat Lavaca 52-6 to advance to the second round of the state tournament where they fell to Harmony Grove 56-14. Marked Tree got a first round bye before traveling to defending state champion Mt. Ida where they were handed a 56-22 loss. Basketball was in swing for all schools by the end of November. December saw area teams take home multiple titles as the Bay Lady Yellowjackets downed Pocahontas 52-50 win the WBC High School Tournament before adding the NEA Invitational Division I title the last week of the month. Marked Tree downed Trumann 61-50 to win the Gerald Jennings tournament in Lepanto before adding the NEA Invitational Division I title at the end of the month with a 61-50 win over EPC.
Congratulations to all the players and schools in the PCDT coverage area for your accomplishments in 2017 and we look forward to seeing the accomplishments in 2018.