Lions Club hears about art contest winner
Thursday, January 11, 2018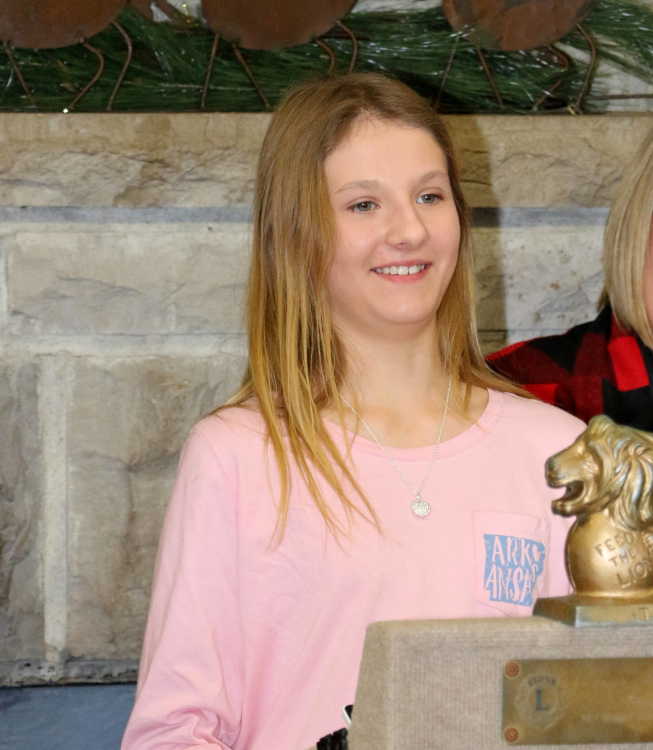 Jennifer Powell, art teacher at Trumann Middle School, spoke to the Trumann Lions Club recently about the recent art contest her kids participated in.
Powell, who is in her first year at Trumann, said she was approached about doing the contest and was excited about being a part of it. "The contest was on World Peace. The first thing I did was sit down with the kids to discuss ways we can make the world more peaceful. I was really surprised at some of their answers," Powell said. Powell said the kids gave answers from Trump to poverty to abuse as to why things are not peaceful in the world. She said the group the talked about symbols of peace, which included the dove and the peace sign.
"The kids made their drawings, and I had some of my seventh and eighth graders pick out the best one. And they chose the six best," Powell said. Those six were on display at a recent Lions Club meeting where the club voted on the artwork with the winner being Chloe Shelby (who happens to be Powell's daughter). Shelby's work was sent to the district competition, where she received an honorable mention certificate for her work.
"I was excited to win as I'd never won an art contest before. Mom helped me out some. I'd get pics from the internet and piece them together before doing the drawing. It was a lot of work," Shelby said.