Lillian Stotts George
Wednesday, January 17, 2018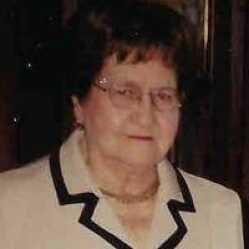 TRUMANN - Mrs. Lillian Stotts George, 93, departed this life on Saturday at the family residence in Trumann. She was born in Gunersville, Ala. and lived most of her lifetime in Trumann. She owned and operated West Mart Grocery in Trumann and was a member of First General Baptist Church in Trumann. She was preceded in death by her first husband, Fred Melton Stotts and her second husband, Leo J. George; one son, Paul Wayne Stotts, four sisters, May (Luther) Evans, Lee (Bill) Jones, Mary (Junior) Barker and Ruth (Vernon) Riley; five brothers, D.C., Hubert, Elmer, Ray and Roy Lafarlett and her parents, D. M and Susie Mexico Merrell Lafarlett.
She is survived by one daughter, Janice Stotts Mitchusson and fiancée' Ed Williams of Trumann; one son, Michael Stotts of Trumann; care giver and special friend Barbara Roark; four grandchildren, Beth Hervey, Audra Hervey, Robert Hervey and Jon Stotts; seven great-grandchildren, Hayley Hervey, Ethan Hervey, Logan Hervey, Lorlei Hervey, Jayson Stewman, Garret Stotts, Jackson Stotts; one son-in-law, Robert (Bob) Hervey of Harrisburg and one sister-in-law, Opal George of Jonesboro, Ark.
Funeral services were held January 15 in the chapel of Thompson Funeral Home in Trumann with Rev. Darrel Miller and Rev. Kenny Guy McMahan officiating. Private burial followed in Jonesboro Memorial Park Cemetery in Jonesboro, Ark.
Honorary pallbearers were Bill Evans, Bob Stotts, Jimmy Stotts, Sr., Gordon Lafarlett, Dennis Pankey, J. W. (Dub) Roden, Joe Underwood, Damon Slinkard and Gerald Barker.
An online register book can be signed at www.thompsonfuneralhome.net