ASU's Rolland-Jones honored with Dan Hampton Award
Thursday, January 18, 2018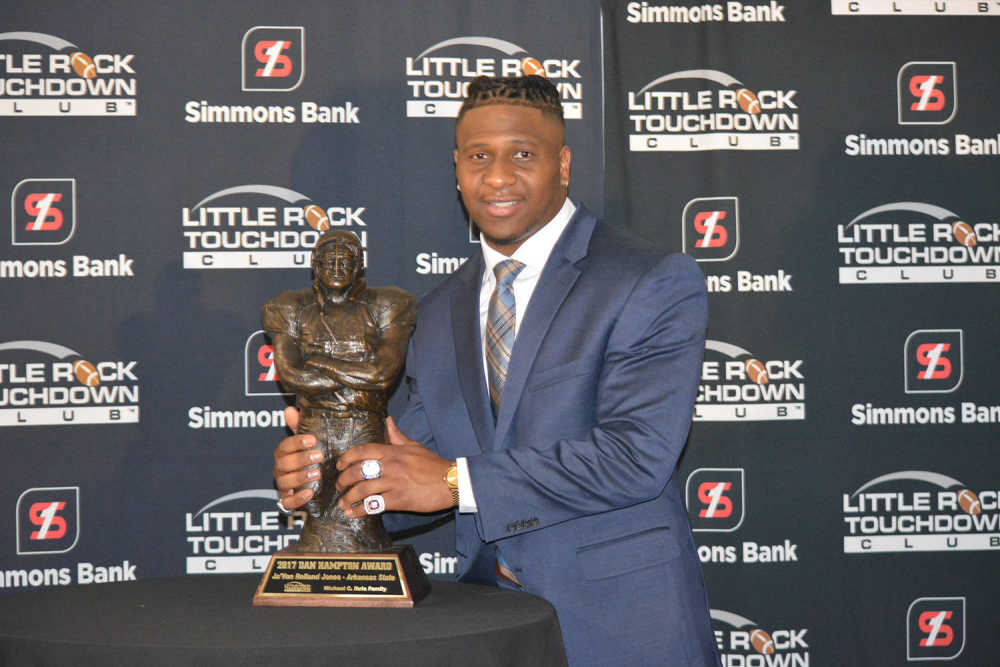 Arkansas State defensive end Ja'Von Rolland-Jones (Mesquite, Texas), the Sun Belt Conference Player of the Year in 2017 and 2016, was honored Thursday night at the Little Rock Touchdown Club's annual awards banquet as both the Dan Hampton Award winner and the club's selection for the Red Wolves' team MVP.
Rolland-Jones, who had the opportunity to address the crowd gathered for the banquet held at the Embassy Suites Hotel, was recognized along with several other award winners both at the high school and collegiate level.
Rolland-Jones became the second consecutive Arkansas State player to win the Dan Hampton Award, presented by the LRTC to the state's top defensive lineman. The award was previously issued to the Red Wolves' Chris Odom in 2016, UCA's Jonathan Woodard in 2015 and to Arkansas' Trey Flowers in both 2013 and 2014.
Rolland-Jones is the fourth defensive lineman to win the LRTC's Arkansas State Team MVP award, joining Odom (DE, 2016), Ryan Carrethers (DL, 2013) and Alex Carrington (DE, 2008 and 2009). The award has also previously been issued to Antonio Warren (RB, 2004), Eric Neihouse (PK, 2005), Reggie Arnold (RB, 2006), Tyrell Johnson (DB, 2007), Ryan Aplin (QB, 2010-12) and Fredi Knighten (QB, 2014-15).
Rolland-Jones, a four-time All-Sun Belt Conference selection, ended his career at A-State in 2017 as the both the school and Sun Belt's all-time leader in career sacks with 43.5 to his credit. He is the second all-time leader in NCAA FBS history in career sacks, only a half-sack shy of Terrell Suggs' 44.0 total posted from 2000-02 at Arizona State.