Lady Hornets win thriller over Gosnell
Thursday, January 18, 2018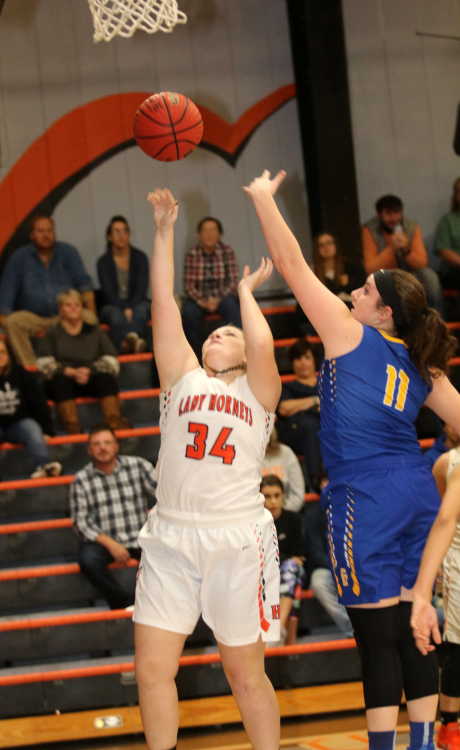 Ansley Wixson's old-school three-point play with 21 seconds left gave the Lady Hornets a 39-38 lead and proved to be the game winner as Harrisburg beat Gosnell last Thursday in Harrisburg.
Lessie Dowty gave Harrisburg the first points of the game with a jumper in the lane only to see Gosnell score the next six points to go up 6-2 with 3:28 left. Abby Edwards stuck back an offensive rebound for the Lady Hornets as Cassie Armstrong hit two free throws for Harrisburg to make it 6-5 Lady Pirates. Gosnell scored the last four points of the quarter to take a 10-5 lead after one.
Harrisburg tied the game early in the second quarter as Armstrong hit a jumper and Dowty followed with a three-ball to make 10-10. Gosnell scored inside and canned a three-pointer to make it 15-10 as Destany Lovell hit a jumper for the Lady Hornets to make it 15-12 Lady Pirates with 5:04 left. Gosnell hit a three-ball, Kristin Vanaman hit two free throws for Harrisburg, Gosnell hit one of two free throws before Vanaman scored inside for the Lady Hornets and Armstrong hit two free throws for Harrisburg to make it 19-18 Gosnell at the half.
Full game article in January 18 edition of PCDT on newsstands now!