Norwood Creech exhibit opens
Friday, January 19, 2018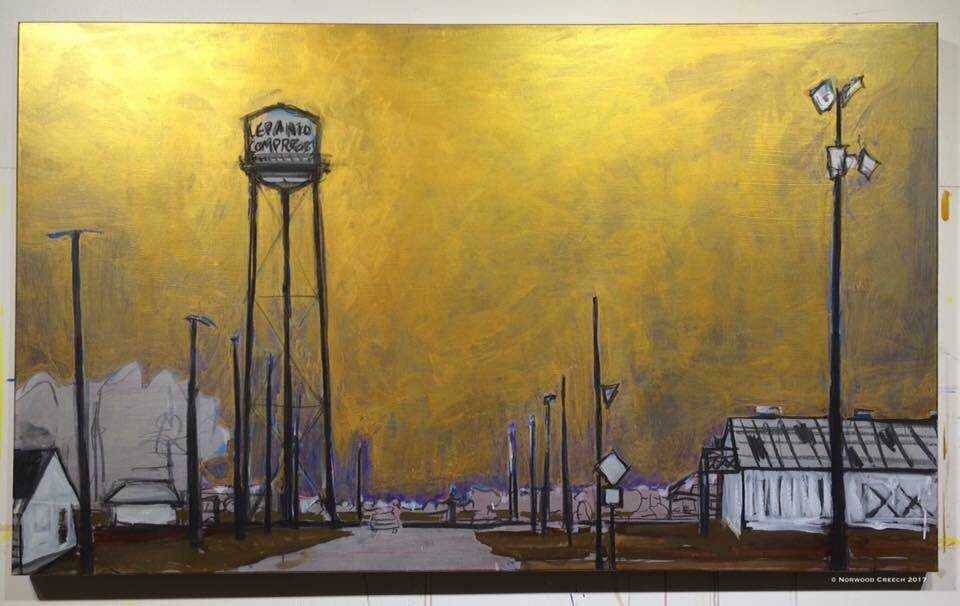 Norwood Creech, of Lepanto, had a new exhibit open at the Arts & Science Center for Southeast Arkansas in Pine Bluff on Jan. 18.
The exhibit, #GildTheDelta, incorporates metallic mediums of gold and silver into the paintings capturing the Delta landscape through gilded interpretations. Each painting depicts a specific place from Native American burial mounds to exact roadside locations, farmer's pivots in the field to Johnny Cash's childhood home.
Creech said the exhibit "relates to how one may express their love, devotion, and exalted adoration, for something, by preserving it with gold.
"For example, a gold ring is a traditional symbolic seal of one's marriage. Or let's say you love those grandbaby shoes but don't know how to preserve them. You could have them dipped in silver or bronze. Glorifying them forever.
"For me, it's this landscape. I love the flat, agricultural, expansive landscape around me in northeast Arkansas. And as an artist, I am incredibly grateful to be endlessly inspired by its dirt and its history.
"Reinterpreting this same landscape that I have been painting for near to 20 years, approaching it anew, using gold, and incorporating the idea of precious metals, seemed a natural progression for me and the evolution of the work.
"It was while producing images for #GildTheDelta that the administration in the United States changed. As often happens, with the change of an administration also came a change of preferred aesthetics.
"Under this light, #GildTheDelta allows the opportunity for a conversation around the aesthetics of gold and gilded environs, not just as an expression of beauty and love, but what can be seen as an expression of wealth, power, and control. Of course, you may decide for yourself."
The exhibition will run through April 21 with free admission to the art galleries and free hands-on activities for school tours and groups, which can be arranged by calling 870-536-3375.