Junior Wildcats come back to beat Gosnell
Thursday, January 25, 2018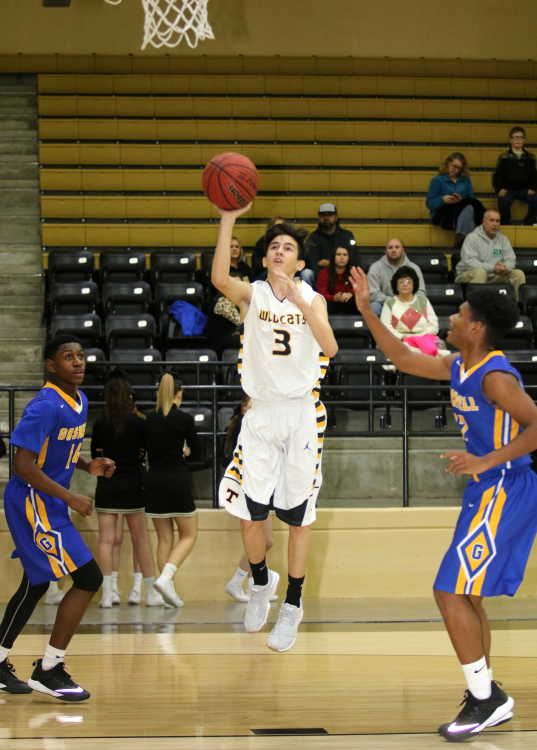 Trumann trailed from the 3:25 mark of the first quarter until seven seconds left in the game as Azani Smith hit a jumper to make it 51-50 giving the Junior Wildcats the win last Thursday at Wildcat Gym.
Trumann took an early 4-0 lead as Jaquaious Love got a steal and layup followed by a jumper in the lane before Gosnell hit two free throws and a stick back basket to make it 4-4. Smith scored inside to make it 6-4 Trumann only to see the Junior Pirates score eight straight points to take a 12-6 lead with less than a minute left in the opening quarter. Chris Webb hit a jumper in the lane as Gosnell added two free throws late to make it 14-8 Junior Pirates at then end of one.
Rian King scored inside for the Junior Wildcats to open the second quarter as Gosnell hit one of two free throws and got a steal and layup to make it 17-10 Junior Pirates. Love hit two free throws before Gosnell reeled off eight straight points to increase their lead to 25-12 with 2:56 left. Trent Creekmore hit one of two free throws as Gosnell scored the next six points with two free throws coming off a Trumann technical foul to make it 31-13 Junior Pirates. Smith scored inside with six seconds left to make it 31-15 Gosell at the half.
Complete game article in January 25 PCDT!