Marked Tree holds on for win over EPC
Friday, February 2, 2018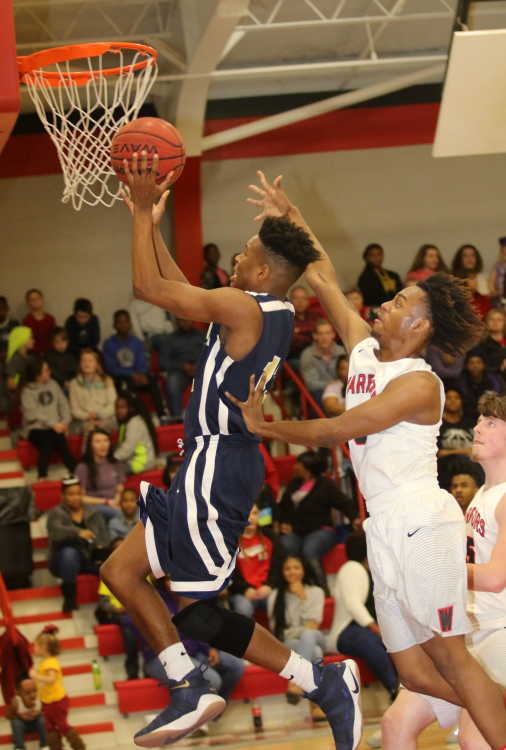 EPC (14-8, 5-4) had a great game plan but fell behind just a little to much as Marked Tree (19-0, 8-0) survived the Warriors' fourth quarter comeback to post a 42-38 win in Lepanto.
Marked Tree shot two technical free throws before the game started as EPC was whistled for dunking in pre-game warm-ups. Trayvius Brown hit the free throws to give the Indians a 2-0 lead. Once the game started, Markel Perry scored back to back baskets for Marked Tree to make it 6-0 before Dee Buchanan hit a three-pointer for EPC to make it 6-3. Trayvius Brown canned a three-pointer for the Indians, Jonathan Gilmore scored inside for the Warriors as Perry hit a jumper for the Indians making it 11-5 Marked Tree with 3:12 left. EPC scored the next five points as Ty Garrett scored inside, Gilmore hit one of two free throws and TJ Bush had a stick back basket to make it 11-10 Indians. Marked Tree answered with a three-pointer from Colby Malone and one of two free throws from Paul Coleman to make the score 15-10 Indians at the end of one.
EPC's Gilmore hit two free throws early in the second quarter followed by a basket inside from Buchanan to cut the Marked Tree lead 15-14 with just over four minutes left in the half. Perry hit one of two free throws for the Indians making it 16-14 Marked Tree. EPC, who had been playing a very slow paced offense, held the ball from the 2:50 mark until there was six seconds left before running a play that resulted in a turnover. The score stayed the same as the first half ended.
Full game story in February 1 PCDT on newsstands now!