Morgan inducted into WABDL Hall of Fame
Thursday, February 8, 2018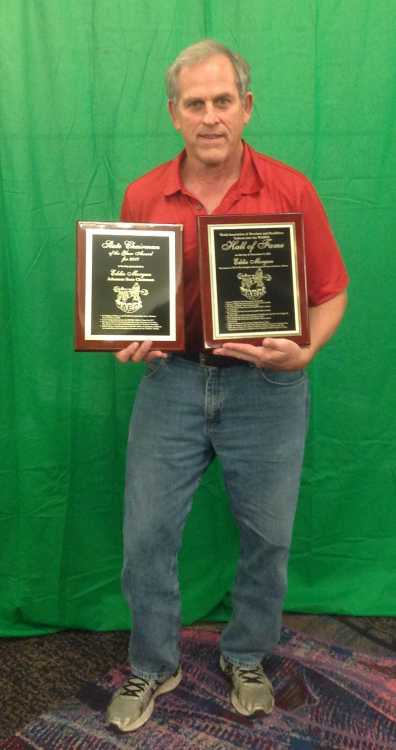 Eddie Morgan of Jonesboro was inducted into the Hall of Fame at the World Association of Benchers and Deadlifters (WABDL) Meet in Las Vegas in November. He was named WABDL State Chairman of the Year for the WABDL-sanctioned Arkansas Southern Nationals Weight Lifting Championship and won Gold Medals for Deadlift and Push Pull (total of deadlift and bench press) and was named Best Lifter for his age and weight class. He has lifted the most in his age group at the Worlds for 12 years.
Morgan lifted 700 pounds in 1997, 690 pounds at an AAU meet in Rogers in 1998 and set a world record for lifting 661 pounds at the WABDL Worlds in 2012. He holds the American record for a 630 pound squat.
Morgan is a graduate of West Memphis where he played football. He was a member of 1975 ASU football team, one of two undefeated teams in the history of the school's football program, and was an All-Southland Conference defensive tackle in his junior and senior years. He was drafted by the New York Giants and played pro football in the Canadian Football League.
Morgan has taught special education for the Trumann School District for 32 years where he also drives a school bus and trains his special education students to lift weights competitively. Prior to that, he taught and coached at Parkin, West Memphis and Calico Rock.
Morgan is preparing 20 to 30 of his special education students for this year's Arkansas Southern Nationals where lifters will include men, women and students. Four of his students set world records for their respective class, and in the team division his kids won the national championship for the second year in a row at this year's Southern Nationals.
The Arkansas Southern Nationals Weight Lifting Championships will be Saturday, February 17, 2018, at the Trim Gym in Jonesboro. All lifters who compete will automatically qualify for the World Championships to be held in November, 2018, in Las Vegas. Thirteen lifters who competed in the Arkansas Southern Nationals lifted at the 2017 WABDL Worlds taking home 18 Gold, 6 Silver and 6 Bronze medals.