Junior Lady Wildcats advance at district
Thursday, February 8, 2018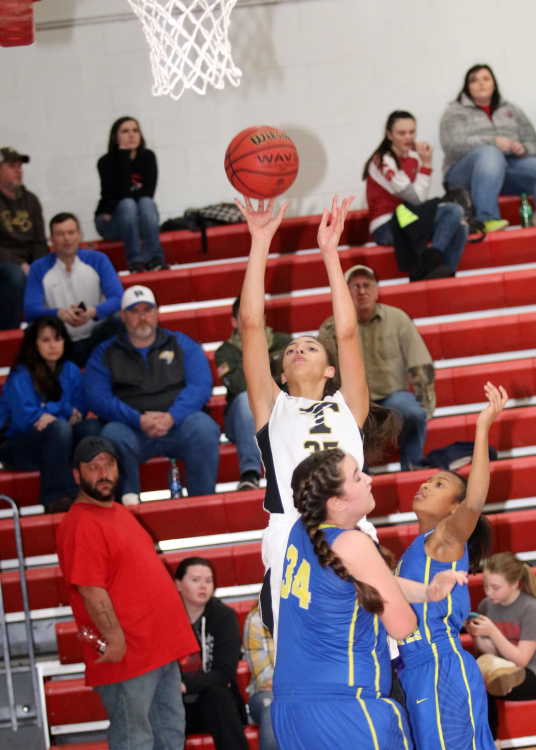 Trumann raced out to a double digit lead in the first quarter and never looked back as they beat Gosnell 45-29 in the opening round of the 4A-3 junior high district tournament this past Saturday in Pocahontas.
The Junior Lady Wildcats scored the first 11 points of the game as Hannah McClaughlin hit a jumper, Kayde Jones and Christina Jean-Paul got back to back steals and layups, Kayde Jones converted an old-school three-point play and Jean-Paul got a stick back basket making it 11-0 with 3:21 left. The Junior Lady Pirates got on the board with a basket inside before Trumann closed the quarter on a 9-0 run with Kayde Jones hitting a baseline jumper, McClaughlin canning a three-ball, Nygeria Jones hitting one of two free throws and McClaughlin netting another three-ball to make it 20-2 Junior Lady Wildcats at the end of one.
Caroline Morgan converted an old-fashioned three-point play and followed with a jumper in the lane for Trumann to increase their lead to 25-2 early in the second quarter. Gosnell scored inside, Haley Mathis scored in the paint for Trumann, the Junior Lady Pirates hit one of two free throws as McClaughlin hit two free throws for the Junior Lady Wildcats to make it 29-5 Trumann with 3:39 left. Gosnell scored back to back baskets, Mathis scored inside for Trumann before the Junior Lady Pirates hit a jumper and made one of two free throws making it 31-12 Junior Lady Wildcats. Kayde Jones hit one of two free throws for Trumann as Gosnell hit a jumper, one of two free throws and got a stick back basket to make the halftime score 32-17 Junior Lady Wildcats.
Full game article in February 8 edition of the PCDT!