Junior Lady Warriors win district tournament opener
Thursday, February 8, 2018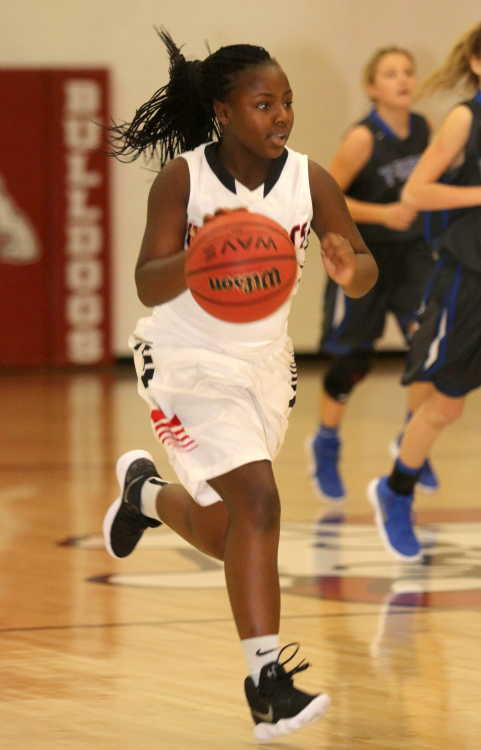 EPC hit five of eight free throws over the final minute of the game to help them hold on for a 41-38 win over Cross County in their opening round game of the 1A/2A-10 junior district tournament this past Monday in Earle.
The Junior Lady Thunderbirds jumped out to a 6-0 lead before Abby Martinez scored inside for EPC making it 6-2. Cross County drilled a three-pointer before Emili Mangrum hit two free throws for the Junior Lady Warriors making it 9-4 Junior Lady T-birds with 2:01 left. Cross County scored inside as Kaylee Hood canned a three-pointer for EPC to make the score 11-7 Junior Lady Thunderbirds at the end of one.
Denissia Gaines hit a jumper for the Junior Lady Warriors early in the second quarter as Cross County made two free throws to make the score 13-9 Junior Lady T-birds. EPC scored the next five points as Hood hit a jumper and made one of two free throws before Zoe Constant got a steal and layup to make it 14-13 EPC with three minutes left. Cross County converted a conventional three-point play as Constant got a stick back basket for the Junior Lady Warriors to tie the game at 16. The Junior Lady Thunderbirds scored back to back baskets only to see Gaines score inside and Hood go coast to coast for a layup to make it 20-20. The Junior Lady T-birds added a basket late to take a 22-20 lead at the half.
Pick up a copy of the February 8 PCDT for full game story!