Nora Pitts
Monday, February 12, 2018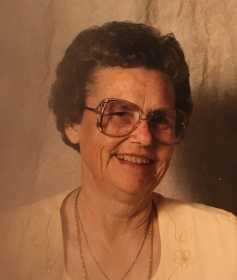 MARKED TREE - Nora Faye Scull Pitts, 86, departed this life Monday, February 5, 2018. She was born February 12, 1931 to George Franklin and Nora Jane Amos Scull. She was a member of Neiswander Baptist Church. Her occupation was being a wife, mom and granny. She loved shopping, quilting, and playing games.
Nora Faye is preceded in death by her parents; two brothers; six sisters; grandson, Gerald Wade Pitts, and great - granddaughter, Mary Cooper Pitts.
She is survived by her husband of 71 years, Robert James Pitts, Sr.; sons, Robert Pitts Jr. (Melissa) and George Wayne Pitts (Doris); daughters, Bonnie Thompson (Freddie) and Helen Pitts (Melissa Tutor); grandchildren, Robert Pitts, III (Cyndi), Wendy Pitts, Jereme McFarland (Farrah), Wesley Pitts (Rachael), Heather Lucas (Junior), Jamie McFarland (Dana), Leslie Pitts, Nora Leigh Harbin (Shane), Stephanie Tacker (Justin), Keith Hale, Brianna Smith and Holly Dillon (Casey), and 22 great-grandchildren.
Funeral services were held February 8 at Delancey-Murphy Funeral Home in Marked Tree.
Online registry: www.delanceymurphyfuneralhome.com