Dale Wright
Tuesday, February 13, 2018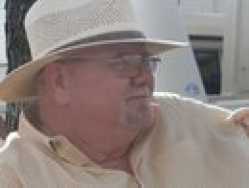 Marked Tree – James Dale Wright, 66, passed away earlier this week while traveling for work in Temple, Tex. He was born on September 9, 1951 to Jack and Marie Wright of Trumann.
Dale was a huge sports fan. He spent many years volunteering to coach hundreds of kids, including his own, in various youth sports activities. He spent many years serving as a member of the local booster club. Amongst his favorite things were spending time deer hunting with his friend Doyle Cooper, and the Cooper family.
Survivors include his wife of 47 years, Pamela Wright; sons David Wright of Bentonville, Matt and Candace Wright of Marked Tree; granddaughters, Avaleigh Marie Wright and Lindley Jean Wright of Marked Tree; and brother, John and Wanda Wright of San Antonio, Tex.; and a number of nieces and nephews. He was preceded in death by his parents.
A private ceremony was held for family February 3. The family requests in lieu of flowers, please consider a donation to the Marked Tree High School Booster Club at 4931 Brandon Lane, Marked Tree, AR 72365.