Lady Hornets ousted in district opener
Thursday, February 15, 2018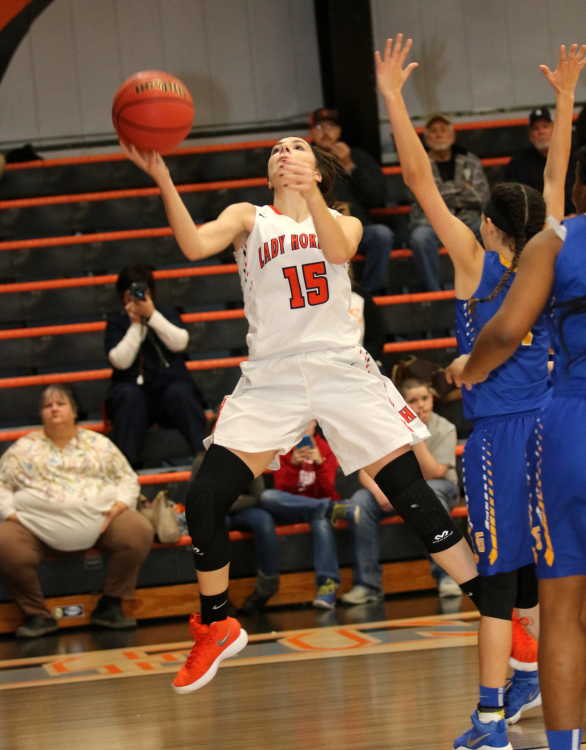 Harrisburg's offense was not as good the second half as it was the first half as Gosnell took a three point halftime lead and turned it into a 10 point win as the Lady Hornets lost 50-40 in the first round of the 4A-3 district tournament this past Tuesday in Harrisburg.
Gosnell hit two free throws for the early lead before Abby Edwards tied game with a jumper in the lane. The Lady Pirates made back to back baskets to go up 6-2 only to see Cassie Armstrong score six straight points making it 8-6 Harrisburg with 1:02 left. Edwards added two free throws with three seconds left to make the score 10-6 Lady Hornets after one.
The Lady Pirates scored off the fast break for the first points of the second quarter as Ansley Wixson canned a three-pointer for Harrisburg making it 13-8 Lady Hornets. Gosnell converted a conventional three-point play, Armstrong hit one of two free throws for Harrisburg before the Lady Pirates scored the next 10 points to go up 21-14 with 1:18 left. Edwards drilled a three-ball for the Lady Hornets, Gosnell hit a jumper in the lane as Edwards drilled another three-pointer to make the halftime score 23-20 Gosnell.
Pick up a copy of the February 15 PCDT for full story!