Trumann Chamber gives annual awards
Thursday, February 15, 2018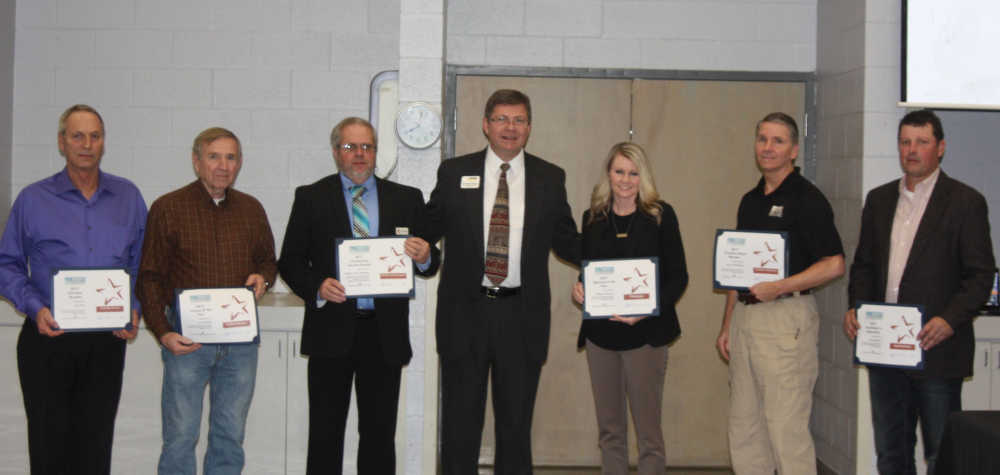 The Trumann Chamber of Commerce gave out their awards for 2017 at their 55th annual banquet last Thursday.
Excellence in Agriculture went to local farmer Paul Bingham. The award was presented by Bingham's son, Cole, who noted that for the past few years the award has gone to businesses instead of individual farmers. Among his father's many accomplishments as a farmer, Cole pointed out that Paul had also donated pallets of rice to help feed those in need.
Outstanding Educator went to Trumann High School Principal Michelle Waymire. Superintedent Myra Graham, who presented the award, said colleagues at the school who nominated Waymire called her energetic and said she goes above and beyond to do her job well. Waymire took over as principal of THS in 2016. In the years prior to that, she served as THS assistant principal, Cedar Park Elementary assistant principal, and taught sixth, seventh, and eighth grades at Carlisle School District.
James Ruffin was named Citizen of Year. Mayor Barbara Lewallen said Ruffin does a lot for the city but does it quietly. Among the numerous things he does, she said Ruffin was a founding member of the Trumann Fine Arts Council, was in charge of their sound system, is in charge of the Trumann Recreation Center building and maintains their sound system, and he helps the elderly around Trumann with odd jobs they are not able to do anymore.
Kevin Hazelwood won Outstanding Chamber Board Member. Chamber President Scott Richards cited his "go-getter" attitude in single-handedly getting police initiatives off the ground his first year on the board, including securing donations of drinks for officers during the hot summer months, toys for officers to give out to kids while on patrol, medical supplies, and bulletproof vests.
Stepping Stone Sanctuary received the Community Service Award. Stepping Stone is a homeless shelter, food pantry, and soup kitchen which also offers guidance in job seeking to help people get back on their feet. In the nearly two years it has been open, the shelter has quickly grown, expanding their facilities and the services they offer.
Outstanding Chamber Member of the Year went to Steve Horn, owner of Couch's. Business of the Year went to Speedway Sales, owned by Michael Reese.