Kenny Fritz
Thursday, March 1, 2018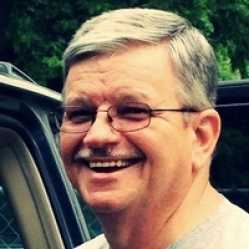 TRUMANN - Mr. Kenneth Allen "Kenny" Fritz, 62, passed away on Sunday, February 25, 2018 at St. Bernards Medical Center in Jonesboro, Ark. He was the husband of Kim (Holden) Fritz. They have shared 36 years of marriage together. Kenny was the son of Oscar and Annie (Campbell) Fritz.
As a lifetime resident of Trumann, he was a graduate of Trumann High School, worked 41 years as a foreman at Roach Manufacturing and 17 years in assembly at Wal-Mart.
Kenny was a faithful member of Melton Ave. Church of Christ. He was an avid Hogs, Cardinals, and Steelers fan. He enjoyed sports, fishing, woodworking, working on cars, anything building with his hands and spending time with his family.
Survived by his wife Kim Fritz of the home; two daughters, Trenity Fritz and Kami Mullins; his favorite son, Eric Mullins; grand-dog Pyper; his boys, Jackson, Cody and Lucas, his princess Mallory, several nieces and nephews, and a large extended family that became "the real family"; three sisters, Sharon Monreal, Loretta Allen and Alberta Fritz; one brother, Bill Fritz. He was preceded in death by his parents.
Pallbearers were Heath Hendrix, Keith Isbell, James Evans, Michael Blagg, Roy Gottfried, and Mike Roach, Sr. Honorary pallbearers were "them boys" at Roach.
Funeral services were held February 28 in the chapel of Thompson Funeral Home with Matt Flad and Nolan Glover officiating. Burial followed at the Nettleton Cemetery in Jonesboro, Arkansas.
Online guest book can be signed at www.thompsonfuneralhome.net.