Wildcats fall in opening round of regional tournament
Friday, March 2, 2018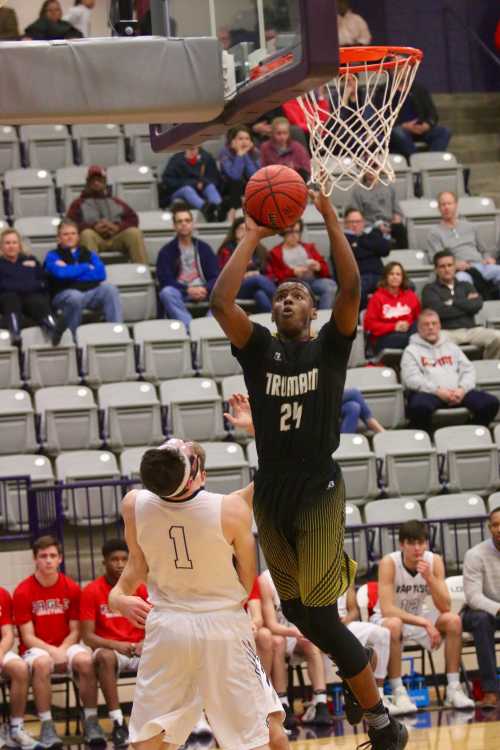 Trumann (14-16) had the task of taking on the two-time defending state champion Baptist Prep in the opening round of the 4A East regional tournament last Wednesday in Lonoke. The Wildcats fell behind early and never recovered as the Eagles ended Trumann's season with a 72-50 loss.
Jacob Ferguson gave Trumann it's only lead of the game with a three-pointer to make it 3-2 with 7:17 left in the opening quarter. Baptist Prep scored the next 10 points to take a 12-3 lead. Ben Turner hit a three-pointer for Trumann, the Eagles got a reverse layup, Cody Roland canned a three-ball for the Wildcats only to see Baptist Prep drill a three-pointer and go coast to coast for a layup making it 19-9 Eagles with 3:20 left. Alex Moses hit a jumper for Trumann, Baptist Prep canned a three-ball, the Wildcats got back to back jumpers from Roland and Moses before the Eagles scored inside to make the score 24-15 Baptist Prep at the end of one.
Turner scored inside for Trumann early in the second quarter as the Eagles scored the next 11 points on two three-pointers, two baskets inside and one of two free throws to go up 35-17 with 2:23 left in the half. Jesse Penter hit one of two free throws for the Wildcats as Turner hit a jumper for Trumann to make the halftime score 36-20 Baptist Prep.
Full game story in March 1 PCDT on newsstands now!