Pearl Chambers
Thursday, March 8, 2018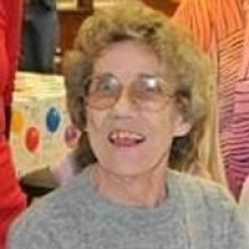 HARRISBURG - Mrs. Pearl Ellen Chambers,80, departed this life Saturday, March 3, 2018 at St. Bernards Medical Center. She was born Thursday, January 27, 1938 in Trumann to the late J.E. "Nub" and Lois Hancock Lowery and had lived in Harrisburg for the past 43 years. She was a homemaker who loved to quilt, garden, fish and play the guitar. She was a former member of the Promise Land Missionary Baptist Church. She was preceded in death by her husband, Everett Hartsell Chambers; one son, Kenneth Eugene Chambers; one sister, Shirley Marie Lowery; four brothers, J.E. Lowery, Clarence Leroy Lowery, Doyal Lowery and Wayne Lowery and her parents.
She is survived by one son, Freddy Chambers and wife Jean of Roland, Okla.; three sisters, Dortha (Buster) Wilson of Harrisburg, Laretta (David) Nance of Trumann and Gail (Bobby) Parnell of Cherokee Village; two brothers, Alvis (Patricia) Lowery of Harrisburg, and Jerry Lowery of Jonesboro; three sisters-in-law, Vicki Lowery and Frances Lowery both of Harrisburg and Brenda Lowery of Jonesboro; 11 grandchildren, 31 great-grandchildren and one great-great-grandchild.
Funeral services were held March 7 in the chapel of Thompson Funeral Home in Trumann with Rev. Kenny Guy McMahan and Rev. Paul Hale officiating. Burial followed in Holly Springs Cemetery near Harrisburg, Ark.
Pallbearers were Justin Chambers, Rodney Chambers, Shawn Chambers, Toby Chambers, Joseph Elrod and Krisman Chambers. Honorary pallbearers were her great-grandsons.
An online register book can be signed at www.thompsonfuneralhome.net.