Chandler honored with Quilt of Valor
Friday, March 9, 2018
A Trumann veteran who served in both the Korean and Vietnam wars was awarded a Quilt of Valor recently. Carlton Chandler served in the U.S. Army for 21 years from October of 1949 until July of 1970, and after receiving the quilt surrounded by family and friends at his home, he said it was the first time he had been publicly recognized for his service.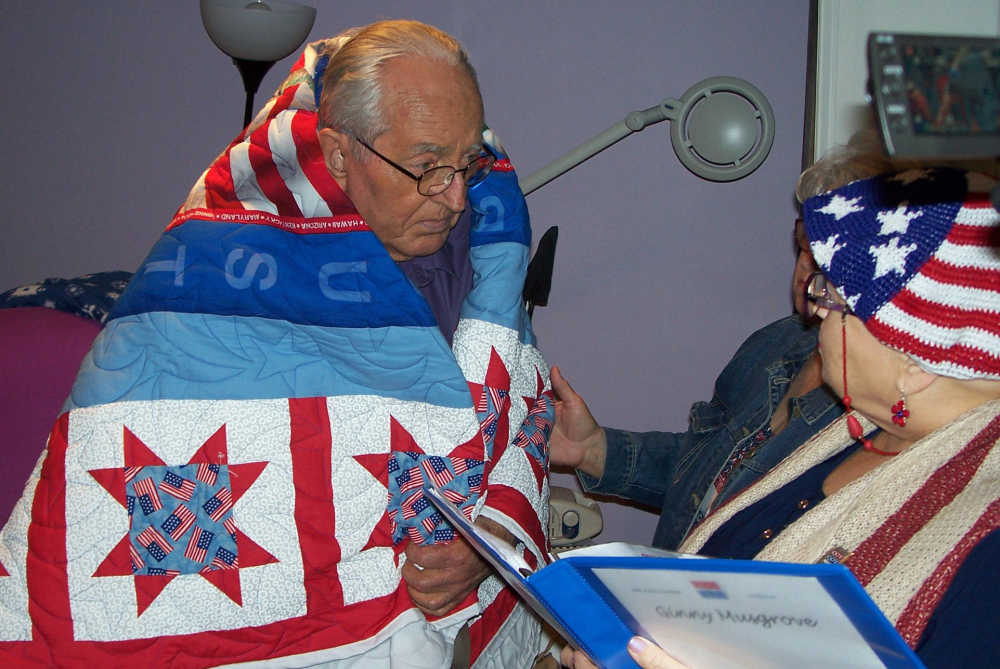 Chandler, who turns 86 next month, was born in Good Luck between Bay and Lunsford. His family lived in Mississippi for a time before moving to Trumann when he 15 years old. He went into the Army when he was 17. After basic training, he was sent to Japan before serving two combat tours in Korea. After Korea, he spent time at Fort Bragg, N.C.; Hawaii; and San Antonio, Texas, before serving in Vietnam. After time there, he and his wife, Irene, who he married in 1956, went to Milwaukee, Wis., before he went back to Vietnam.
After that, Chandler retired from the military and worked at a Ford factory in Michigan. He and his wife then lived in New Mexico and Texas before coming back to Trumann, where they have lived for the past 32 years. They have three children: Renata Smotts, Mike Chandler, and Kim Chandler.
Quilts of Valor is a nonprofit group that was founded in 2003 by Catherine Roberts, who had a son serving in Iraq at the time. According to Ginny Musgrove, who presented the quilt, each quilt is handmade by volunteers and awarded to veterans in honor of their service, as a thank you for their sacrifice, and to offer them comfort in knowing "they are forever in our thoughts and hearts." The Disabled Amercian Veterans also helped set up the quilt presentation.
"It is a great honor," Carlton Chandler said. "They put a lot of work into that quilt. When I first came back from Korea, people treated us like second-rate citizens. It feels good to finally be recognized for our service to our country."
"When all of them returned from North Korea and Vietnam, they had no recognition," Irene Chandler said. "I'm thrilled he's being honored this way. This is an honor not all men get. I'm very thankful to the Lord he's getting this."