Western Grove nips Bay 48-47 in state quarter-finals
Friday, March 9, 2018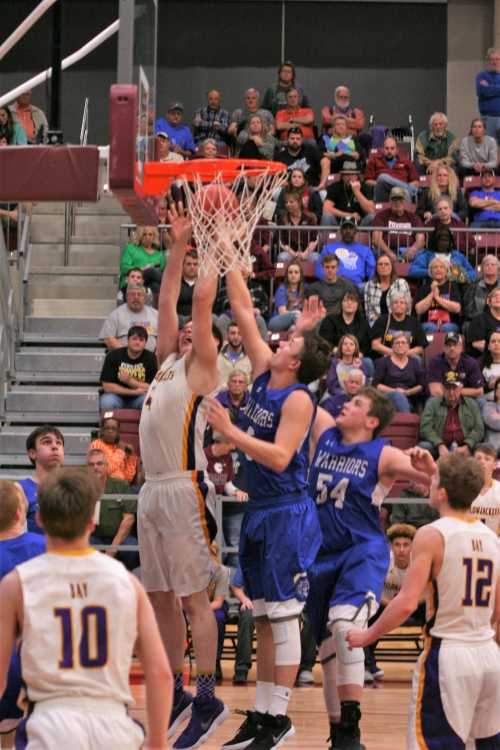 In a strange and controversial ending, Bay saw its season end in abrupt fashion Friday night in the 1A State Tournament quarterfinals at Morrilton. Trailing by one point in the closing seconds, Bay had a couple of shots at the game winning bucket, but came up short in a heartbreaking 48-47 loss to Western Grove.
The Yellowjackets held a 47-43 lead with 2:16 remaining and had the ball when things turned sour. Point guard Dax Gibson was whistled for an offensive foul, his fifth of the game, at the 1:04 mark, sending Bay's best ball handler to the bench. The Warriors took advantage, getting a pair of free throws from Hunter Baker to close the gap to 47-45 at the 58 second mark. With Gibson on the bench, Western Grove applied full court pressure, resulting in a Yellowjacket turnover and foul, sending Baker back to the line with 42 seconds showing on the clock. Baker made 1-2 foul shots, slicing Bay's lead to 47-46. The Warriors then fouled Bay junior Layne Austin, who misfired on the front end of the one and one with Western Grove snatching the rebound. Seconds later, the Warriors were called for an offensive foul, giving the ball back to Bay with 28 seconds left. Applying the full court press again, Baker came away with a steal and drove to the hole, laying in what proved to be the game winning bucket with 17 ticks left on the clock.
Bay called timeout to set up one final shot at victory. On the inbounds, Aaron Jolly drove in the lane, losing the handle momentarily before regaining control and throwing up a shot. The ball rimmed out of the bucket, but Yellowjacket center Slade Grove grabbed the rebound and went back up for the potential game winner. As the clock wound down to zero, an official blew his whistle on what appeared to be a foul against the Warriors, which would have sent Grove to the line with a chance to tie or win the game. Instead, after a few seconds hesitation, the same official signaled "game over," stunning Bay players, coaches and their fans.
Full game article in March 8 edition of the PCDT!