Marked Tree punches ticket to state title game
Friday, March 9, 2018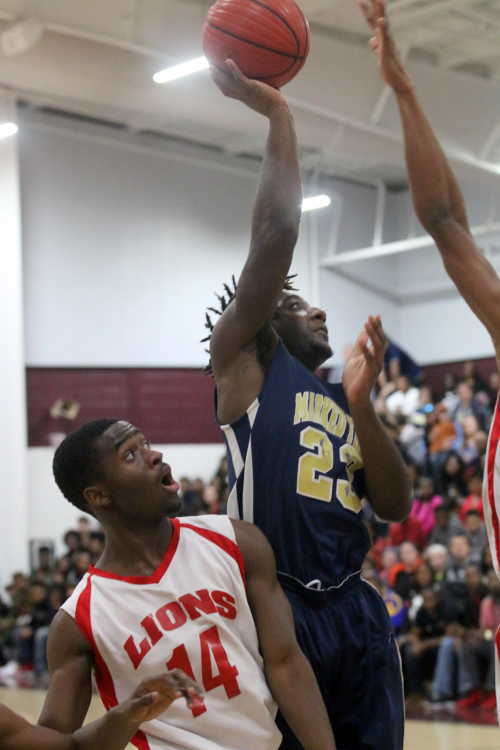 Marked Tree (31-1) had to use two extra quarters to get by Clarendon, the only team to beat the Indians this year, for a 68-65 win in the semi-finals of the Class 2A state tournament this past Saturday in Judsonia. The win sets up a rematch of last years state finals as the Indians will play Earle on March 8 at 7:45 pm at the Convention Center in Hot Springs.
Marked Tree jumped out to a 6-0 lead on back to back three-pointers from Jack Brown and Colby Malone before Clarendon hit two free throws to make it 6-2. Markel Perry had a stick back basket, the Lions hit a jumper as Paul Coleman hit a jumper for the Indians to make it 10-4 Marked Tree with 4:36 left. Clarendon converted a conventional three-point play, Trayvius Brown canned a three-ball for the Indians before the Lions scored the next five points making the score 13-12 Marked Tree. Perry scored inside, Clarendon hit a jumper as Perry hit one of two free throws to give the Indians a 16-14 lead at the end of the first quarter.
Clarendon tied the game at 16 with a dunk to start the second quarter as Trayvius Brown answered with a three-ball for Marked Tree making it 19-16 Indians. The Lions hit a jumper, AJ Johnson put back an offensive rebound for the Indians as Clarendon scored inside making the score 21-20 Marked Tree with 3:42 left. Jack Brown hit a base line jumper for Marked Tree making it 23-20 only to see the Lions get a tip in basket with two seconds left cut the lead to 23-21 at the half.
Pick up a copy of the March 8 PCDT for full game article!