Bay takes 14-1 victory over Marked Tree
Thursday, March 22, 2018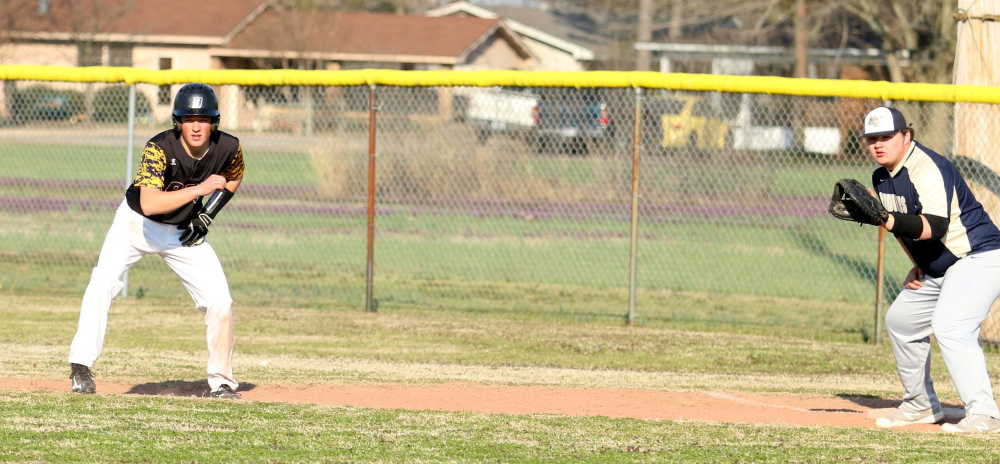 Marked Tree jumped out to a 1-0 lead in the top of the first inning but it was all Bay after that as they Yellowjackets posted a 14-1 win over the Indians this last Thursday at Bay.
Kentarius Allen struck out for Marked Tree leading off the game as Aaron Hutchens followed with a double for the Indians. Paul Coleman was hit by a pitch. A double steal but runners on second and third before Hutchens scored after getting in a rundown when Bay had no covering home plate for a 1-0 lead. Chaz Simmons walked, Coleman was picked off at second base before Nick Kinney struck out for the third out. Bay plated two runs in the bottom of the inning as Andrew Oester led off with an infield single and stole second before Nathan Higgins drew a walk. Oester scored when Brycen Thomas reached on an error as Higgins was forced at second base for the first out. Thomas scored as Jimmy DuVall reached on an error making it 2-1 Bay. Jacob Sparks struck out and Chance Arender flew out to end the inning. Braden Francis struck out leading off for the Indians in the top of the second has Jarrett Harsson coaxed a one-out walk. Jackson Parrish and Hunter Criswell both struck out leaving Harsson on base with Bay still up 2-1. Tyler Norris reached on an error for Bay to lead off the bottom of the second. Norris stole second only to be left there as Hunter Scott and Kyle McAdams both struck out as Oester grounded out to end the inning with Bay leading 2-1.
Allen and Hutchens both grounded out for two quick outs for Marked Tree as Coleman struck out but raced to first when the catcher missed the ball. Simmons was hit by a pitch before both runners moved up a base on a passed ball. Kinney flew out to center leaving the runners on base. Bay sent 14 batters to the plate in the bottom of the third and plated 10 runs. Higgins walked to lead off as Thomas struck out. DuVall was hit by a pitch before Sparks took a full count fastball out of the park for a three-run home run to make it 5-1 'Jackets. Arender and Norris both walked, Scott struck out as Cody Oldman reached on an error that brought in Arender making it 6-1 Bay. Oester walked, Higgins singled to score Norris, Thomas walked to bring in Oldman before DuVall singled to score Oester as Higgins and Thomas both scored when the outfielder missed the scoop of the ball making it 11-1 Yellowjackets. Sparks doubled to drive in DuVall as Arender grounded out to end the inning with Bay up 12-1 after three innings of play.
Complete game article in March 22 PCDT!