Marked Tree Chamber honors Mary Ann Arnold
Friday, March 23, 2018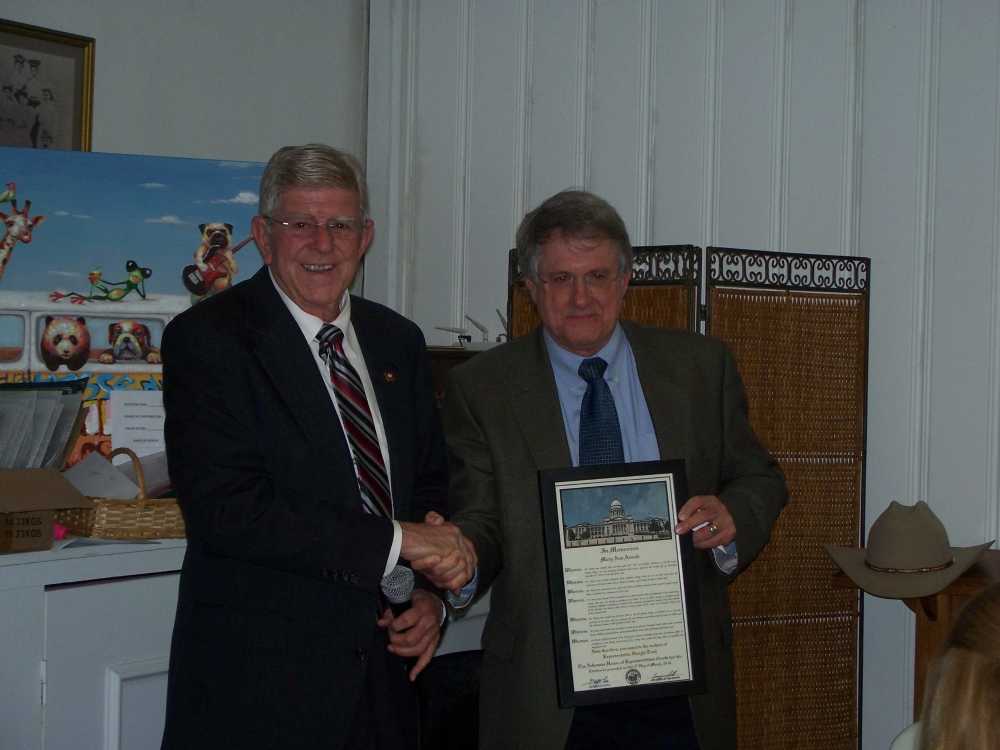 The Marked Tree Chamber of Commerce honored the late Mayor Mary Ann Arnold at their annual banquet, along with several other community members as they gave out the largest number of awards they've given in years.
After a slideshow remembering Arnold and her community involvement, State Rep. Dwight Tosh presented presented her son, Ritter Arnold, with an In Memoriam from the Arkansas House of Representatives. Speaking about her, Tosh praised her spirit of service and fondly remembered her sense of humor.
"I want to thank all of you so much for being part of my mother's life," Ritter Arnold said. "She truly loved each and every one of you." In thinking about things his mother would say about the community and about life, Ritter Arnold said he thought she would say that community involvement is absolutely key to moving a town forward and to never underestimate one's self.
Arnold also accepted, on behalf of his mother, an award for Most Dedicated Chamber Member in her honor and memory. In presenting the award, Chamber President Sandy Teague said, "Mary Ann Arnold was the most dedicated chamber member we've ever had. Mary Ann Arnold loved chamber."
Other awards presented were as follows.
*Most Community Support: Ritter Arnold.
*Outstanding Achievement: Delancey-Murphy Funeral Home.
*Best Fire Chief: Jamie McCrary.
*City Involvement: Steve Craig.
*Best All Around: Wayne Hendrix.
*Business of the Year: Family Care Pharmacy.
*Farmer of the Year: Eddie Wray.
*Police Officer of the Year: Sheriff Kevin Molder.
*Teacher of the Year: Chad Stoddard.
*Citizen of the Year: Pastor Dale Noe.
*Volunteer of the Year: Pastor Scottie Smith.
*Fireman of the Year: Kenneth Phaneuf.
*Veteran of Honors: the late C.P. Stafford.
*Outstanding Community Involvement: Three Rivers Healthcare and Rehabilitation.
*Community Involvement: Trey Stafford.
*Best News Reporter: Corey Clairday.
*Best City Officer: Anquion Williams.
*Random Acts of Kindness: Rep. Dwight Tosh and Rep. Dave Wallace.