Trumann JROTC speaks to Lions
Friday, March 23, 2018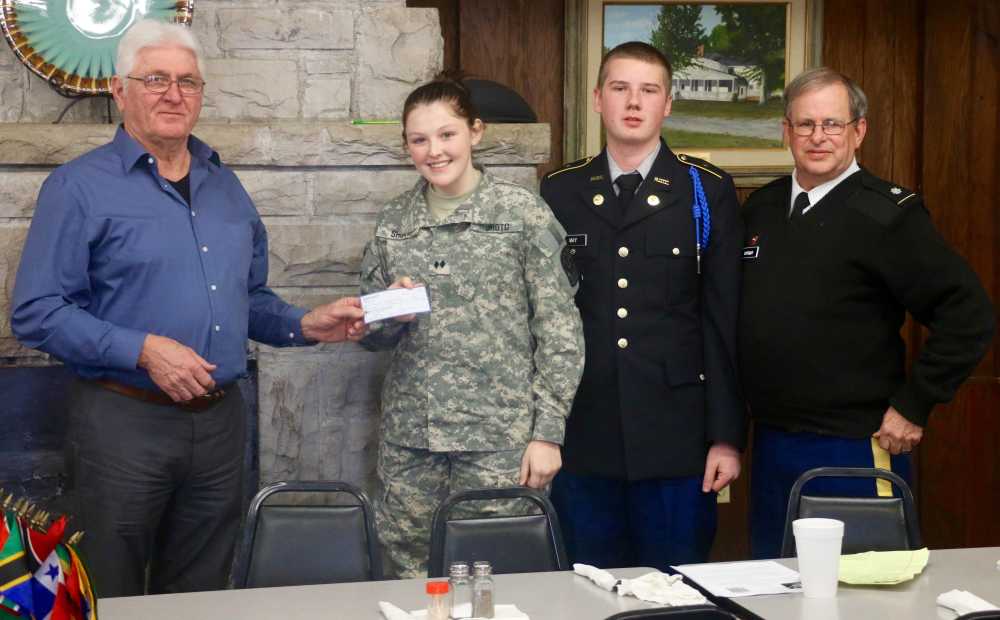 Colonel Clarence Overbay, along with Battalion Commander Hannah Short and 2nd Lieutenant Hunter May of the Trumann JROTC program, were the guest speakers at the Trumann Lions Club's weekly meeting last Wednesday.
Short has been a member of JROTC for four years and said it has helped her in so many areas. "Respect and responsibility are the two top areas the program has helped me with. It's also helped with my interactions with other. Four years ago, I don't think I could have stood here and spoke," Short said.
Even with six different instructors during her years with JROTC, Short said the numbers have risen from 49 participants in 2016 to 85 participants this year. Short told the group that they have competed in some competitions, one being the ASU Howler, a seven mile course with 20 obstacles. She said they also hosted a competition at Trumann where 40 teams and 500 cadets participated. Short said she has joined the National Guard and just needs to be sworn in to make it official. She wants to attend Arkansas State University and become a labor and delivery nurse. "I chose this field because I love helping others," Short said.
In his second year of JROTC, May also said the program has helped him. "I'm not quite the public speaker yet, but I'm working on it and will get there," May said.
May talked about the Veteran's Day Program and the Service Learning Projects the group does. "We had a great Veteran's Day Program this past year. The THS band and choir performed and then we fed the veterans after the program. Getting to talk and visit with the veterans was really special" May said.
May told the group that Service Learning Projects are like community service, but they are done at the school level. "One project we did last year was write letters and make Christmas cards for veterans. Not any particular veteran, any veteran. We then went to the nursing home and hand delivered the letters and cards to the veterans who were there," May said.
May wants to attend the Naval Academy and become an electrical technician in the Navy. "It will take a lot of work on my part to accomplish both these goals," May said.
May also talked about two team camps coming up. The JCLC camp will have 26 districts from Arkansas and 24 districts from the Memphis area participating in the camp. Ten cadets from Trumann will be selected for this camp. May also said there will be a camp in Heber Springs, where most activities will be outside, including camping outside. There will be 12-15 cadets selected for this camp. The costs for these camps are $30 per cadet for the first camp and $75 per cadet for the second camp.
Overbay spoke briefly about the JROTC taking over making the selections for Boys' and Girls' State. "I don't think Trumann has sent anybody in a few years, and this year we are sending two boys and two girls. We are interviewing for those spots now," Overbay said. Overbay told the group the cost to send the kids this is $175 per boy and $200 per girl. The Lions Club voted to give $500 toward sending the cadets to camp and to pay for one boy and one girl to attend state.