Juanita Dickson
Wednesday, March 28, 2018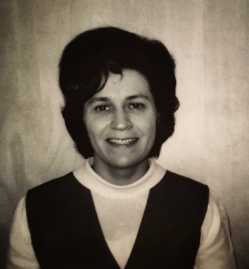 ARIZONA - Verna Juanita Curton Campbell Dickson
Strong, So Strong, Fearless, Grace-filled, Patient, Gifted, Discerning, Creative, Rooted in Faith, Compassionate, Unique, Gentle, Non-anxious, Adventurous, Wise - Juanita embodied these traits fully and without apology. Fiercely and humbly herself, Juanita stepped forward into unknowns with unwavering faith. She loved to paint, make music, minister, charm children, and after spending a few hours with her, you couldn't help but believe in a loving God.
As a chalk artist, she recreated Biblical scenes with a meditation, lighting the scene with a color wheel and black light for extra effect. She taught Sunday School, played the organ, painted baptistry murals, sang in a Gospel group, led the Youth Group, conducted a prison ministry, and served as the church treasurer. And, she could pray like nobody's business. Her niece, Jennifer Curton, recalls a time when Juanita had a mouse problem in her home. She prayed on those mice for days until five cats showed up on her front porch.
"Let's go to the hills," she'd say, and then take off on adventures with her family. Outings led to the Ozarks, artist studios, roadside attractions, shaped-note singing schools, or a Bob Ross technique painting weekend. Juanita loved nature and the overlooked beauty of things. Her eyes lit up, and she could explore for days. She always insisted on a car with a high-performance engine, usually with a four-barrel carburetor. Family friend, Wendel Owens, says Juanita is the first "hippie" he ever knew, recalling how she and Chlora Richardson would venture into the hills to watch the dogwoods bloom.
Inside Juanita's home, books upon books lined her shelves. The combination living room/dining room overflowed with art supplies - an art project always underway. You might catch the smell of her turpentine-scented housecoat she wore while she painted, and of course, her musical instruments including the piano she adored. Over there, are the ferns. And there, her Biblical commentaries. You could find bean sprouts in her fridge but the delicious glowing powder of Tang in her cupboard.
Juanita watched her first husband, Dolan Campbell, drown in the Spring River during the family's first real vacation with their children. They had a happy marriage, and after losing Dolan, Juanita knew that her boys wouldn't have a future unless she enrolled in college that Fall. Grandpa Curton expanded his garden to an acre to help feed the Campbell boys while Juanita studied to become an elementary teacher at Arkansas State University. Years later, Juanita continued her education and became a licensed United Methodist local pastor.
After retiring, Juanita gave her time and talent wherever she could. This included working at Camp Mitchell on Petit Jean Mountain where her son, Dennis, was the director. Juanita loved working with children and couldn't resist spending her paycheck on art supplies for the kids who attended summer camp.
Juanita stumbled upon love again with Dick Dickson. They married and enjoyed traveling in their RV - Juanita with her accordion and Dick on the guitar - leading Bible studies along the way before settling down in Wickenburg, Arizona.
Juanita was the first of four siblings born January 25, 1929, to Verna and Dan Curton near Bay, Ark. She made homes in Michigan City, Ind., Trumann, Ark., Heber Springs, Ark., and Wickenburg, Arizona. Even in the last years of her life, Juanita ministered to those around her through her peaceful presence, her whistling when she could not speak, and her gracious smile.
Juanita is preceded in death by her parents, Dan and Verna Curton, her first husband, Dolan Campbell, her second husband, Wilbur "Dick" Dickson, her son and daughter-in-law, Michael D. Campbell and Carolyn Campbell, and her brother, Thomas Curton.
She is survived by her sister and brother-in-law, Louise Hudspeth and Forrest "Frosty" Hudspeth; sister-in-law, Peggy Curton; her brother and sister-in-law, James "Sonny" Curton and Judy Curton; her son and daughter-in-law, the Rev. Canon Dr. Dennis Campbell and Joanna ES Campbell; her step-son, Mike Dickson, and many unconditionally loved nieces, nephews, and grandchildren.
Juanita's Burial Rite will be 10 a.m. on March 29 st Wickenburg Cemetery with Father Dennis Campbell officiating.