Lions hear about new Trumann business, Rage Fabrications
Friday, March 30, 2018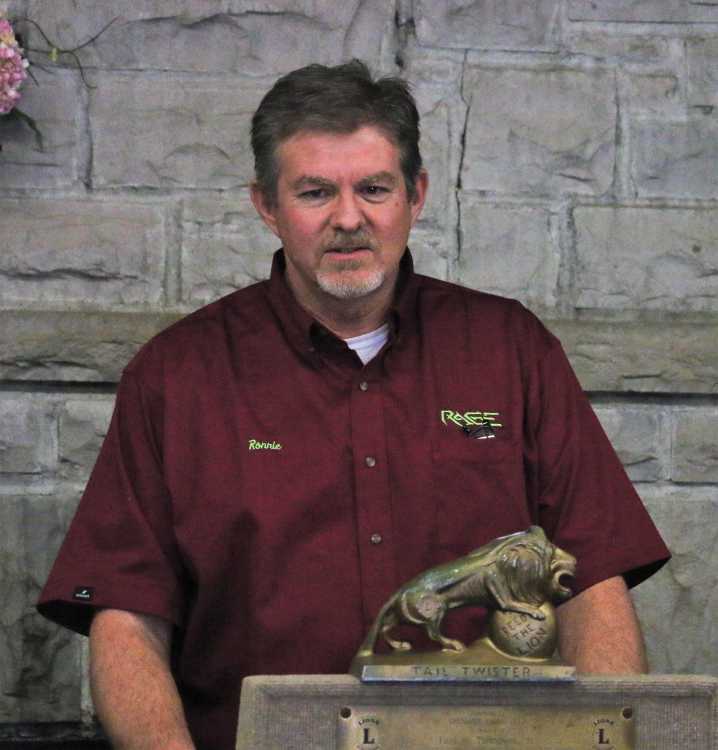 Ronnie Samuel, with Rage Fabrications, LLC, was the guest speaker last Wednesday at the Trumann Lions Club's weekly meeting at the Old Community House in Trumann.
Samuel is lifelong Trumann native who has worked with his dad Austin at Samuel's Muffler and Drive Shaft business on Speedway in Trumann for the last 30 years. Samuel said in October of this year, they will celebrate 50 years of business at that location. Samuel then talked a little about the new business he and his son Ian have started.
"It's just a blessing from the Lord that we were able to start this new business," Samuel said. Samuel said Ian came aboard to work at the family business and was just tinkering around when he made a bumper for his UTV. "He posted a picture of it on Facebook, and it just took off," Samuel said. Samuel said from that first part they now make custom doors, hoods, and roofs for ATV/UTA vehicles. Samuel said they are up to 43 items in their inventory with the best seller being a radio mount for the off-road vehicles.
Having started the new business at the Speedway location, it didn't take long to outgrow that location. "We have five bays at the shop, and we ended up taking over four of them for this business. We knew it was getting to point where we had to make a decision of what to do," Samuel said. Neal Vickers, with the Trumann Industrial Development Commission, visited Samuel and told him he may have a place he would like. "Neal took us out to the Industrial Park and showed us the place that was available. My first thought was there is no way we could afford this. Neal told me to write up a proposal, and he'd get all the members together to talk about it," Samuel said. Samuel said he went in with a 99 year lease proposal, and after a little bit of discussion, the commission said how about we cut that to 20 years, and it took off from there.
Samuel said the TIDC had the electrical lines redone and also had a new sprinkler system put in as part of the deal. Samuel said his end was to create new jobs, with ten to start by the end of the first year. Samuel said he has nine hired already. "The city ended up getting a grant they didn't know existed at the beginning of this journey that helped offset what the city put into the new place," Samuel said. "It was a win for both of us, the city getting the grant and Rage getting a new 15,000 square foot facility. The city also wins as the ten new employees who, let's say will make $25,000 each, will be putting that money right back into businesses in the city."
Samuel said it's been another blessing that several businesses in town have reached out to see if they could help in any way. "It's just been amazing how they have stepped up to ask if there was any way they could help," Samuel said.
Shipping is another change that is coming for the company. "We have a meeting set up with Old Dominion. We have almost outgrown doing shipping with Fed Ex and UPS. We ship all over the United States as well as other countries. We've shipped to Russia, New Zealand, China, and Australia just to name a few," Samuel said.
Samuel said they do all their work in-house. "When a potential customer calls and says, 'Can you?' I'll answer, 'Yes we can,' and get to work on it," Samuel said. "We've come a long way from making parts, spraying them, and then cooking them in a regular kitchen stove. We built our own oven, normally a $30,000 purchase, for about $3,000. We just researched about it and got the materials we needed to make it happen."
Samuel said they are happy to stay in Trumann and hopes the business will grow over the years. "I'd like for Ian and I to be able to take credit for all that has happened in the last year, but we can't. All the credit for this goes to the blessings from our good Lord," Samuel said.