Trumann celebrates Arbor Day, six years as a Tree City
Friday, March 30, 2018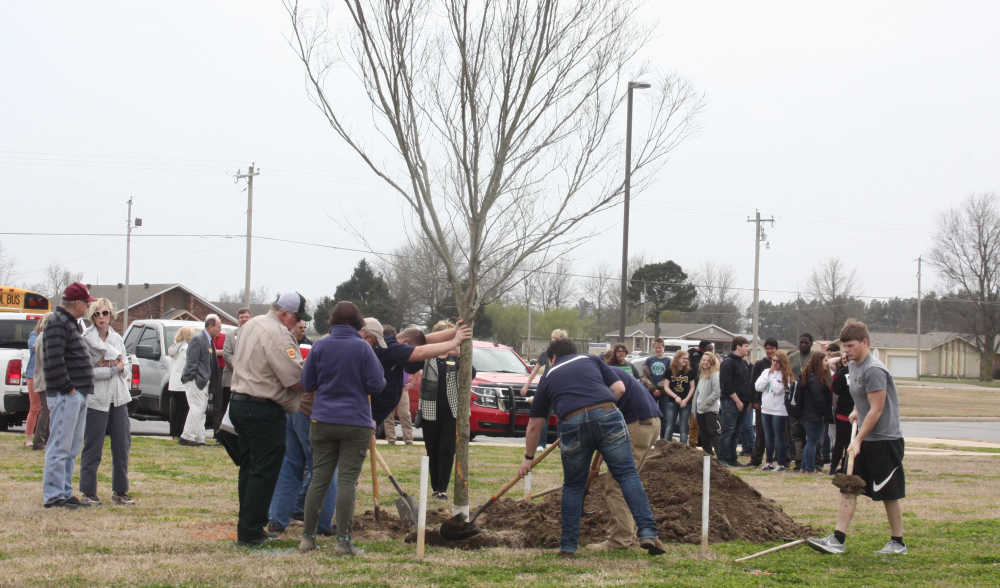 Despite a very windy afternoon, the city of Trumann celebrated Arbor Day with the planting of a tree in front of the Trumann High School auditorium Tuesday, March 27. Community members joined with FFA officers and other THS students for the planting.
Trumann has been part of the Tree City USA program for six years. In recognition of that, the Arbor Day Foundation donated this year's tree, a Lacebark Elm, as a thank you for being part of the program.
Trumann Superintendent Myra Graham said that since there are no trees in front of the high school, "we are thrilled to be getting one today."
FFA President Jackson Lowery spoke briefly about the importance of trees in producing oxygen, cutting down pollution, providing shade, and improving the habitat. "You might not think about it just driving down the highway, but they're a vital key to our way of life," Lowery said.
Representatives with the Arkansas Forestry Commission pointed out that trees serve as a wind barrier and are great for stabilizing soil to prevent erosion. Additionally, thousands of everday products use trees. "From the day you're born to the day you die, you use tree products every day of your life," said Thomas Lindsey, County Ranger with the Arkansas Forestry Commission. "This tree will last longer than any of us. Take pride in your city. You've already started that with Tree City USA. Plant a tree every day."
The city also received a flag and emblems recognizing that it has been a Tree City for six years.
"We're happy to be a Tree City," Mayor Barbara Lewallen said. "Trees improve the city in so many ways."