Dorothy Helton
Thursday, April 5, 2018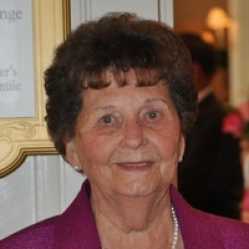 TRUMANN - Mrs. Dorothy C. Helton, 84, departed this life Sunday, April 1, 2018 at St. Vincent Infirmary in Little Rock, Ark. She was born Sunday, April 30, 1933 in Tupelo, Miss., to the late Luther Lee and Dovie Ann Duvall-Parker Hand and lived most of her lifetime in Trumann. She was a certified nursing assistant and a member of Parkview Missionary Baptist Church. She was preceded in death by her husband, James Freeman Helton; daughter-in-law, Rhonda Helton; two sisters, three brothers, and her parents.
She is survived by two daughters, Dorothy Byford and husband Junior of Jonesboro, Ark., and Kim Everhart and husband Troy of Trumann; one son, Buddy Helton of Trumann; two sisters, Gail McIntare of Mt. View, Ark., and Amanda Muse of Harrisburg, Ark., five grandchildren, Rhonda Byford Gottfried, Christie Dunman, Heather Glover, Amber Ponder, Jessica Hamilton; six great-grandchildren, Sasha Potter, Hali Brooks, John Taylor Dunman, James Dunman, Kaylie Glover and Levi Glover; and two great-great-grandchildren, Hunner Brooks and Emily Brooks.
Funeral services were held April 4 in the chapel of Thompson Funeral Home in Trumann with Rev. Bill Maxwell officiating. Burial followed in Jonesboro Memorial Park Cemetery in Jonesboro, Ark.
Pallbearers were Buddy Helton, Junior Byford, Dewayne Glover, John Taylor Dunman, Hali Brooks and Jody Potter. Honorary pallbearer was James Dunman.
An online register book can be signed at www.thompsonfuneralhome.net.