Hornets top Marked Tree in county baseball match-up
Thursday, April 5, 2018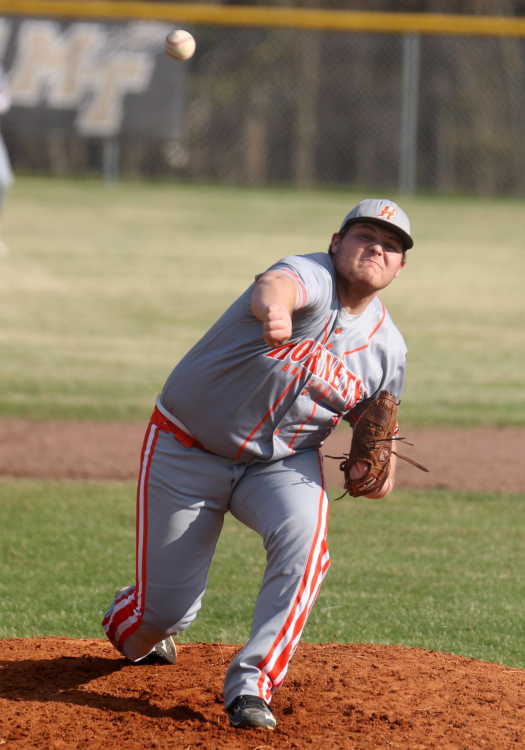 Harrisburg jumped out to a 10-0 lead after two innings and never looked back on their way to an 18-3 win over the Indians this past Friday in Marked Tree.
The Hornets plated two runs in the top of the first as Dylan Mathis grounded out before Hayden Creecy singled. Walker Brown had an infield single as Zach Biggers was hit by a pitch. Auggie Wicker singled to bring in Creecy and Brown to make it 2-0 Harrisburg. Biggers was picked off at third base, Lance McGinnis singled before Clay Wright flew out for the third out. Marked Tree went three up and three down as Eli McCrary popped out, Aaron Hutchens grounded out and Chaz Simmons struck out as the score stayed 2-0 Hornets after one. Harrisburg sent 14 batters to the plate in the top of the second inning resulting in eight runs scored. Jett Jackson grounded out leading off as Parker Jones struck out but reached first as the catcher missed the third strike and went to second when the catcher's throw went into the outfield. Mathis was hit by a pitch and Biggers before Brown reached on an error that scored Jones making it 3-0 Hornets. Biggers singled to plate Mathis making it 4-0 as Wicker doubled to score Creecy and Brown to make the score 6-0 Harrisburg. Lance McGinnis was hit by a pitch, Wright singled to bring in Biggers making it 7-0 as Jackson reached on a fielder's choice that forced courtesy runner Jamason King out at home. Lance McGinnis scored on a wild pitch to make it 8-0 Hornets before Jones drew a walk, Mathis singled to score courtesy runner Enellio McGinnis making it 9-0, Creecy singled to bring in Jackson to make it 10-0 before Brown watched strike three for out number three. The Indians again went down in order as Braden Francis grounded out, Kentarius Allen flew out and Paul Coleman was caught looking at strike three to end the second inning with Harrisburg up 10-0.
Full game story in April 5 PCDT on newsstands now!!