Sandy Teague receives lifetime achievement award
Friday, April 6, 2018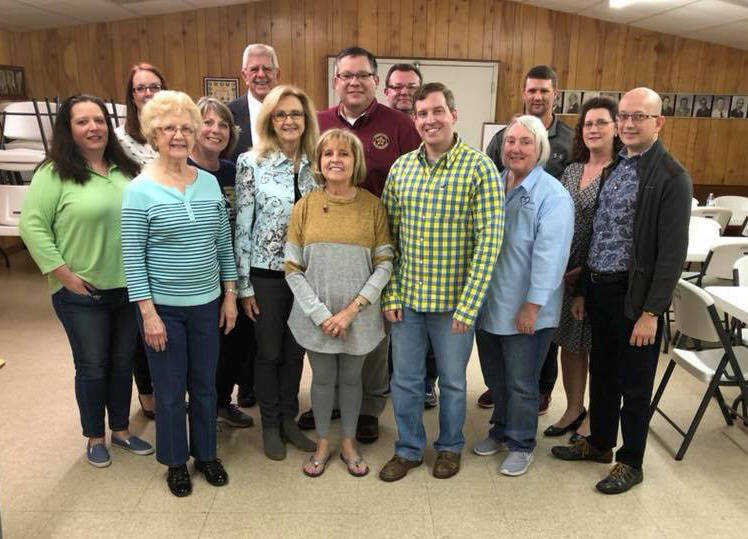 No one works harder for the Marked Tree Chamber of Commerce than Sandy Teague. She has served as president for several years, many of them in a row, and has made it her mission to make sure that, though Marked Tree is a small town, its chamber is an active one.
During their annual banquet in early March, the chamber gave out around 20 awards, but Pastor Scottie Smith, with Marked Tree Church of God, felt there was one award that was missing.
"After the chamber banquet, I watched as Sandy worked tirelessly, as she does all the time," Smith said. "I was disturbed by the fact that during all of the recognition, not one time was Sandy recognized for all of the hard work she does for me personally and my family and also for this community. I believe it went unnoticed. So I made a few calls, and we had a very special celebration of just Sandy Teague for all of her dedication as a leader, a person, and as a friend."
During a special chamber meeting last week, Pastor Smith presented Sandy Teague with an award for Distinguished Excellence of Lifetime Achievement in Community Service. State Rep. Dwight Tosh was also on hand to present Teague with a citation of recognition from the House of Representatives. And Sheriff Kevin Molder also recognized her. The chamber had a special meal and a Golden State Warriors cake for her, as she is a huge fan of theirs.
Teague said she had no idea the award presentation would be made to her when the meeting was called, but when she realized the real reason they were there was to present her with an award, she was overwhelmed. "I don't do anything for the recognition," Teague said.
"I can't think of a person more deserving of the Lifetime Achievement in Community Service Award," Rep. Dwight Tosh said. "I think she exemplifies what that award is all about, and for me to help present it to her was a personal honor."
"She never asks or seeks recognition, but she sure deserves it!" Smith said.
In addition to her work with the chamber, Teague serves as chairwoman for the East Arkansas Family Health Center Board of Directors, past president and member of Trumann Lions Club, and president of Caring Hearts Home Care. She is a member of the Poinsett County Election Commission, serves on the Marked Tree Cemetery Board, serves on the boards for Teague Investments and Sanjo Agri, and is a member of Marked Tree First United Methodist Church.
Also during the meeting, the chamber took time to present awards to people who could not attend the banquet. These included: Anquion Williams, Best Marked Tree Police Officer; Barbara Wilburn-Covington, Coach of the Year; and Pam Wright, Chamber Member of the Year.