Columbia Forest Products makes Habitat for Humanity donation
Friday, April 6, 2018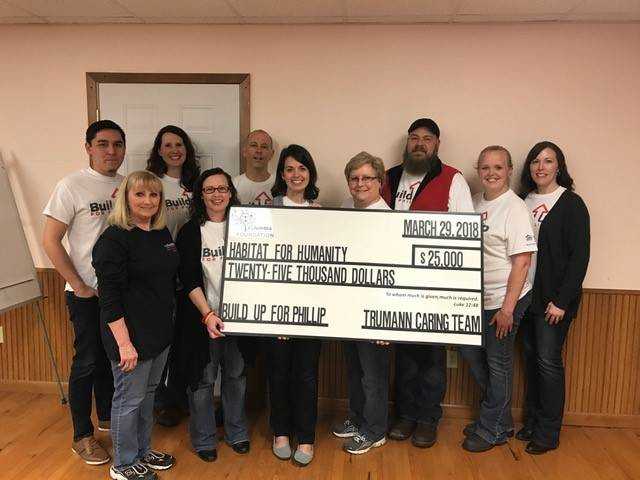 Columbia Forest Products has committed to donating cabinets to all nine of the houses in Habitat for Humanity's Build Up for Phillip project. In addition, the Columbia Forest Products' Foundation has also donated $25,000 towards the fundraising efforts of the project.
The Build Up for Phillip project will consist of nine new construction homes, with a pocket park, and is expected to be completed over the next three years. It will be located off State Street in Jonesboro.
Founded in 1957, Columbia Forest Products is North America's largest manufacturer of hardwood plywood and hardwood veneer products. Columbia's decorative interior veneers and panels are used in high-end cabinetry, fine furniture, architectural millwork and commercial fixtures. Columbia has a mill located in Trumann.
Columbia's core values include: Customer Service Above all Else, Absolute Integrity, Share the Success and We are Family. Their employees strive to live out each of these core values on a daily basis. In fact, the local Caring Team looks for opportunities to give back and arranges volunteer days for employees to participate in. They have already been involved in various projects such as: cleaning up a local park, packing food boxes at the Foodbank of Northeast Arkansas, setting up for the St. Jude S'travaganza, collecting school supplies for Stuff the Bus, collecting food for the Backpack Program and building Blessing Buckets for the Pocahontas flood victims.
"We are thrilled to be a part of Habitat for Humanity's Build Up for Phillip project," said Krissy Cantwell, Human Resources Manager. "It is such a blessing to work for a company that encourages its employees to give back to the community."
For more information about Columbia Forest Products, visit their website at www.columbiaforestproducts.com.