Erik Dyer
Tuesday, April 17, 2018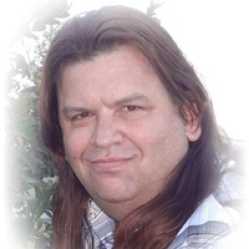 TRUMANN - Mr. Russell Erik Dyer Departed this life on Wednesday, April 11, 2018 at St. Bernards Medical Center in Jonesboro, Ark. He was born Friday, December 29, 1967 in West Palm Beach, Fla., and lived most of his lifetime in Trumann. Mr. Dyer was a factory worker and a member of First Baptist Church.
He is survived by his wife of 17 years, Sandra Dyer of the home; one daughter, Alicia Dyer of Trumann; two sons, Zachary Dyer of Trumann, and Matthew Dyer of Fort Belvoir, Va.; two step-daughters, Whitney McGuire and Jennifer Whitlatch both of Trumann; his mother Kathy Warden of Trumann; one sister, Carry Ragsdale of Southaven, Miss.; one brother, Raymond Warden of Trumann; and six grandchildren.
Funeral services were held April 14 in the chapel of Thompson Funeral Home in Trumann with Rev. John Medlock officiating. Burial followed in Jonesboro Memorial Park Cemetery in Jonesboro, Ark. Pallbearers were Loyd Jones, David Shuburte, Joseph Elrod, Barry Trussell, Kevin Rusher and Tim Spence.
An online register book can be signed at www.thompsonfuneralhome.net.